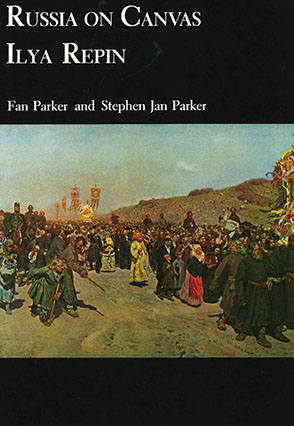 Russia on Canvas
Ilya Repin
Fan Parker, and Stephen Jan Parker
BUY
Russia on Canvas
Ilya Repin
Fan Parker, and Stephen Jan Parker
This is the first book in the English language devoted to the life and art of Russia's national artist, Ilya Repin (1844–1930). Esteemed by both prerevolutionary and Soviet Russia, Repin is placed beside Tolstoy, Dostoevsky, Musorgsky, and Rimsky-Korsakov for the magnitude of his contribution to Russia'a cultural heritage. Repin gave to Russia a wealth of canvases on contemporary and historical themes as well as many exceptional portraits of the noted personalities of his day. His paintings include such well-known works as
The Volga Boatmen
,
Ivan the Terrible Killing his Son Ivan
,
Tolstoy in the Forest at Prayer
, and the portrait of Musorgsky.
Description

Bio

Subjects
This is the first book in the English language devoted to the life and art of Russia's national artist, Ilya Repin (1844–1930). Esteemed by both prerevolutionary and Soviet Russia, Repin is placed beside Tolstoy, Dostoevsky, Musorgsky, and Rimsky-Korsakov for the magnitude of his contribution to Russia'a cultural heritage. Repin gave to Russia a wealth of canvases on contemporary and historical themes as well as many exceptional portraits of the noted personalities of his day. His paintings include such well-known works as
The Volga Boatmen
,
Ivan the Terrible Killing his Son Ivan
,
Tolstoy in the Forest at Prayer
, and the portrait of Musorgsky.
This volume illustrates a wide selection of his major works including some works held in the U.S.A. which have never previously been reproduced. Biographical notes on Repin's many friends and portrait subjects provide a cross section of the Russian cultural establishment.
The socio-historical turbulence of his times and the stylistic evolution in Russian painting form the background for Repin's development as man and artist. To convey the national status of Repin's achievements, the authors have written of Repin as he himself perceived his life and his art amidst the political, social, and artistic activity of his day. Russia on Canvas thus gives a unique view of a major Russian artist to the English-reading public.
Fan Parker, a Columbia PhD, headed the Russian Department at Brooklyn College, CUNY, and is now Professor Emerita. Author of several books, she has traveled to the Soviet Union many times to do research of the USSR.
Stephen Jan Parker , a Cornell PhD, is Associate Professor of Slavic Languages and Literatures at the University of Kansas. A National Endowment for the Humanities Fellow, he traveled to the Soviet Union to consult with Repin scholars. He is the co-founder of the Vladimir Nabokov Society and is now editor and publisher of "The Vladimir Nabokov Research Newsletter."