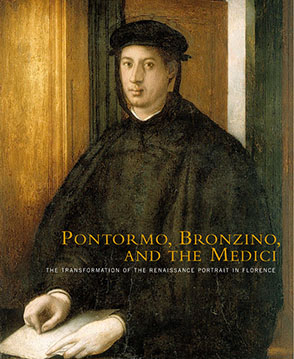 Pontormo, Bronzino, and the Medici
The Transformation of the Renaissance Portrait in Florence
Carl Strehlke and Elizabeth Cropper
Pontormo, Bronzino, and the Medici
The Transformation of the Renaissance Portrait in Florence
Carl Strehlke and Elizabeth Cropper
"As a complement to a significant exhibition . . . the catalogue's great strength lies in its contextual essays. . . . The technical accounts by Tucker and his assistants admirably clarify Pontormo's working methods and technique. The catalogue is provided with a useful glossary and index. While some of the entries are bound to provoke much scholarly debate, Strehlke's catalogue provides fine plates, supplementary illustrations, and comprehensive bibliographies for each entry, all of which are of enormous use to scholars and students seeking to understand and clarify this complex period in the development of Florentine portraiture and its patronage."
Description

Reviews

Bio

Table of Contents

Subjects
Co-published with the Philadelphia Museum of Art This book accompanies an exhibition of the same name held at the Philadelphia Museum of Art upon the completion of conservation of Pontormo's famous portrait of Duke Alessandro de' Medici. Centering on Pontormo's painting and Agnolo Bronzino's equally renowned depiction of another Medici duke, Cosimo I, the exhibition of some fifty sixteenth-century works from American and European collections explores the ways in which these artists changed the Renaissance portrait during this tumultuous period in Florence's history.
In his catalogue entries, Carl Brandon Strehlke surveys the history and multifaceted significance of the Medici portraits and other paintings, drawings, coins, medals, books, and prints in the exhibition, offering a wealth of insights into the Medici dukes and the artists who served them. This fully illustrated volume also features Elizabeth Cropper's thought-provoking essay "Pontormo and Bronzino in Philadelphia: A Double Portrait," which explores the rich cultural and artistic background behind these artists' portraiture. The two Philadelphia portraits offer fascinating private views of important rulers of Renaissance Florence. An essay by Mark S. Tucker and colleagues discusses findings from the recent conservation of Pontormo's portrait of Alessandro. A glossary, a genealogy of the Medici family, and a bibliography complete this publication.
The book will accompany an exhibition to be held at the Philadelphia Museum of Art from November 20, 2004, to February 13, 2005.
"As a complement to a significant exhibition . . . the catalogue's great strength lies in its contextual essays. . . . The technical accounts by Tucker and his assistants admirably clarify Pontormo's working methods and technique. The catalogue is provided with a useful glossary and index. While some of the entries are bound to provoke much scholarly debate, Strehlke's catalogue provides fine plates, supplementary illustrations, and comprehensive bibliographies for each entry, all of which are of enormous use to scholars and students seeking to understand and clarify this complex period in the development of Florentine portraiture and its patronage."
Carl Brandon Strehlke is Adjunct Curator of the John G. Johnson Collection at the Philadelphia Museum of Art.
Contents
Foreword
ANNE D'HARNONCOURT AND JOSEPH J. RISHEL
Acknowledgments
1. Pontormo and Bronzino, for and against the Medici
CARL BRANDON STREHLKE
2. Medici Genealogy
3. Pontormo and Bronzino in Philadelphia: A Double Portrait
ELIZABETH CROPPER
4. Technique and Pontormo's Portrait of Alessandro de'Medici
MARK S. TUCKER, IRMA PASSERI,K KEN SUTHERLAND, AND BETH A. PRICE
5. Catalogue
CARL BRANDON STREHLKE
Glossary
CARL BRANDON STREHLKE
Citations
Index of Artists and Works
Mailing List
Subscribe to our mailing list and be notified about new titles, journals and catalogs.