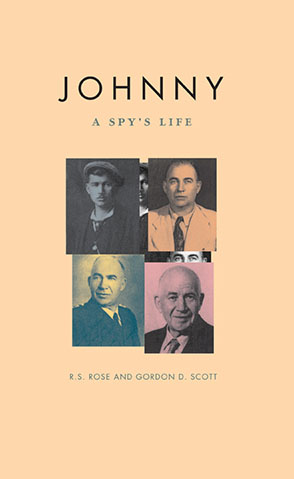 Johnny
A Spy's Life
R. S. Rose and Gordon D. Scott
BUY
Johnny
A Spy's Life
R. S. Rose and Gordon D. Scott
"This book provides fascinating insight into the activities of an agent of Britain's foreign intelligence service (SIS or MI6) that historians of intelligence have long wanted to know more about. It should be read by anyone interested in intelligence history or the history of international relations."
Description

Reviews

Bio

Table of Contents

Sample Chapters

Subjects
Johann Heinrich Amadeus de Graaf, known as Johnny all his life, was born on May 11, 1894, in Nordenham, near Bremerhaven in northwest Germany. He died at age eighty-six on December 2, 1980, in Brockville, Ontario, where he and his wife ran a tourist lodge. That he lived as long as he did is miraculous, considering that he had spent many years acting as a double agent—pretending to work for Soviet intelligence while really functioning as an operative for Britain's MI6.
His life had many twists and turns, and murder, treachery, intrigue, and violence were never far from his doorstep. Eventually joining the Spartacus Bund (which evolved into the German Communist Party) in 1919, he later became a staunch anti-Communist and played a key role in undermining the efforts of Communists in Brazil to oust the government of Getúlio Vargas in 1935. After retiring from MI6, he even volunteered his services to the FBI's J. Edgar Hoover in 1950.
Based on documents from multiple government archives as well as many interviews, the most important of which was a series that Gordon Scott conducted with Johnny in 1975–76, this story of the life of a spy who hid behind sixty-nine different aliases during the course of his colorful career is a gripping tale of espionage and counterespionage during a critical period of the political history of the twentieth century.
"This book provides fascinating insight into the activities of an agent of Britain's foreign intelligence service (SIS or MI6) that historians of intelligence have long wanted to know more about. It should be read by anyone interested in intelligence history or the history of international relations."
"Johnny is a blue-collar spy whose real-life exploits are more daring than those of any fictional James Bond, and who is on the scene at more history-making events worldwide than Woody Allen's peripatetic 'Zelig.' His story is a primer on the spy's tradecraft as well."
"Johnny fought against injustice and tyranny all his life. We are lucky to have had him in Brazil, and he is one of many unsung heroes in the 'silent service.' Former Royal Canadian Mounted Police Commissioner Cliff Harvison stated, 'Thank God he's on our side.'"
"In spite of the considerable research which went into it, Johnny retains many of the virtues and vices of an autobiography. Its story is a compelling narrative with the coherence that a single life brings; moreover, the frequent use of the subject's own words provides the specific insights which are often left out from more general histories. . . . [Johnny is] a superb contribution to the field of history, a well-researched piece of scholarship with an engaging story to tell."
"This is an engrossing story, well told from beginning to end. . . . I could not put it down until I reached the final pages."
R. S. Rose, an American, took his doctorate from the University of Stockholm. He teaches criminology and criminal justice at Northern Arizona University, Yuma.
Gordon D. Scott, a Canadian author, resides with his wife on Vancouver Island, British Columbia.
Contents
List of Illustrations
Acknowledgments
Abbreviations
Explanatory Note
Introduction
1 Wilhelmshaven
2 Merchant Marine
3 Conscripted
4 Osowiec
5 Germany in Chaos
6 Die KPD
7 The Moscow Student
8 Assignment Romania
9 British Missions
10 Berlin and Prague
11 Manchuria and China
12 Brazil One
13 Argentina
14 The Return to Moscow
15 Brazil Two
16 The War's First Years
17 The Montreal Nests
18 A Man from the Sea
19 To Catch a Submarine
20 The Control Commission
21 Home
Epilogue
. . . and the others
Aliases
Notes
Bibliography
Index
Introduction
The tale you are about to read is an incredible one. It is the adventure of a man considered a hero by some and an adversary by others. Certainly, in the champion's role he was no ideal protagonist. He was far from perfect. He was guarded against Jews, he could be vindictive, and he probably murdered one of his common-law wives. He was also stubborn and often unbending. These shortcomings might rightly excuse our attention of lesser men. In the case of Johnny de Graaf, however, what he did for His Majesty's government and later for the Allies outshines his faults and supports his story being told.
Different from many biographies, Johnny is largely taken from the subject's own words. It has been edited and added to with fourteen years' worth of research in thirteen countries by R. S. Rose. The project originally began with Gordon Scott's series of interviews, which started in February 1975. Almost instantly, this resulted in his home phone being bugged by parties unknown. For a year he traveled from Ottawa to Brockville, Ontario, Canada, to stay at Johnny's tourist lodge, Horningtoft, and record the conversations with his longtime acquaintance. When concluded, on January 31, 1976, there was a small mountain of tapes. As the interviews were being made, Scott would transcribe them in longhand and finally write them up on a typewriter after he returned to Ottawa or otherwise had time to do so. In this way he created a working manuscript. The tapes themselves were later discarded, but the typed, and some of the longhand, versions survived. Herein can be found several of the problems that caused havoc with the manuscript. At the time of the interviews, de Graaf was in his early eighties and either slowly becoming senile, forgetting names, or purposefully misrepresenting them to conceal or glorify some unknown fact. Johnny also spoke English with a pronounced German accent, which did not help. Scott speaks no German. Errors, therefore, entered the research as Scott listened to and wrote down what was being said on the tapes, as, for example, in the case of Arthur Ewert, who was listed originally as Avid Eban. In other situations, Johnny left out entire details, such as the death of Helena Krüger in Buenos Aires.
R. S. Rose began his investigation of de Graaf after becoming the first academic to be allowed an extensive look at the Brazilian political police files in Rio de Janeiro in 1991. He subsequently brought his own kind of expertise to the project, namely, that of books, of knowing where to find facts and how to confirm statements. He also tracked down and extensively interviewed what was left of Johnny's family in Germany, as well as the Krüger family in Brazil.
Johnny de Graaf worked for years for Britain's Secret Intelligence Service, or SIS, commonly known as MI6. The British and the Argentines were the only major players to refuse all queries—save two by the English—for information about de Graaf. Even with permission from Johnny's family, the mighty English bulldog remained steadfast and unwilling to let the truth be told about one of their key operatives during the period just prior to World War II and for the duration of the war itself. They claimed that revealing such information would endanger their abilities to conduct contemporary intelligence work, or that it would endanger national security. The Argentines refused to provide anything except the death certificate of Helena Krüger. Even with the help of the American Embassy, government bureaucrats in Buenos Aires declined to reveal what they have in their files from 1936 on Francisco Gruber (Johnny's alias there). Because these two sources of information have been withheld, this annotated biography is in reality an incomplete one.
Refusing to give up, Rose obtained his information from American, Brazilian, Canadian, German, and Russian government archives and intelligence services. He spoke with anyone who knew anything about the man, including his surviving Canadian case handlers. One of the concessions by the British government, by the way, was an important piece of the puzzle. Until receiving a letter in 1994 from M. T. Murray of the United Kingdom Foreign and Commonwealth Office, Rose believed that Johnny and Gerti had perished at sea in 1940 while on their way to England, ironically torpedoed by a German U-boat. Murray's letter and newspaper clipping confirmed that such was not the case. The English yielded on only one other group of documents. Rose discovered a file on de Graaf at the National Archives outside London that is too sensitive for the public to see until January 1, 2047. The items in this file cover the period in Johnny's life from 1940 to 1946. Following a two-year battle to have the ban lifted, fourteen pages were released. They contained little that was new.
Mailing List
Subscribe to our mailing list and be notified about new titles, journals and catalogs.