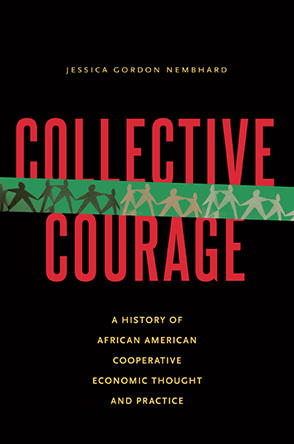 Collective Courage
A History of African American Cooperative Economic Thought and Practice
Jessica Gordon Nembhard
BUY
Collective Courage
A History of African American Cooperative Economic Thought and Practice
Jessica Gordon Nembhard
"The word 'pathbreaking' should not be used casually, but this is, in fact, a pathbreaking book. There is nothing like it. Jessica Gordon Nembhard's study of Black cooperatives opens a door on a critical aspect of Black history in general and cooperative history in particular—a door very hard to open, given the challenges and difficulties with records and sources. What she has found behind the door is subjected to inspiring yet tough-minded analysis. The long trajectory of development Gordon Nembhard describes and the direction she illuminates offer profoundly important guidance as we enter an era of increasingly difficult economic and political challenges."
Media

Description

Reviews

Bio

Table of Contents

Sample Chapters

Subjects
Watch Jessica Gordon Nembhard on GRITtv with Laura Flanders discussing the history of cooperative economics in the movement for civil rights.
In
Collective Courage
, Jessica Gordon Nembhard chronicles African American cooperative business ownership and its place in the movements for Black civil rights and economic equality. Not since W. E. B. Du Bois's 1907
Economic Co-operation Among Negro Americans
has there been a full-length, nationwide study of African American cooperatives.
Collective Courage
extends that story into the twenty-first century. Many of the players are well known in the history of the African American experience: Du Bois, A. Philip Randolph and the Ladies' Auxiliary to the Brotherhood of Sleeping Car Porters, Nannie Helen Burroughs, Fannie Lou Hamer, Ella Jo Baker, George Schuyler and the Young Negroes' Co-operative League, the Nation of Islam, and the Black Panther Party. Adding the cooperative movement to Black history results in a retelling of the African American experience, with an increased understanding of African American collective economic agency and grassroots economic organizing.
To tell the story, Gordon Nembhard uses a variety of newspapers, period magazines, and journals; co-ops' articles of incorporation, minutes from annual meetings, newsletters, budgets, and income statements; and scholarly books, memoirs, and biographies. These sources reveal the achievements and challenges of Black co-ops, collective economic action, and social entrepreneurship. Gordon Nembhard finds that African Americans, as well as other people of color and low-income people, have benefitted greatly from cooperative ownership and democratic economic participation throughout the nation's history.
"The word 'pathbreaking' should not be used casually, but this is, in fact, a pathbreaking book. There is nothing like it. Jessica Gordon Nembhard's study of Black cooperatives opens a door on a critical aspect of Black history in general and cooperative history in particular—a door very hard to open, given the challenges and difficulties with records and sources. What she has found behind the door is subjected to inspiring yet tough-minded analysis. The long trajectory of development Gordon Nembhard describes and the direction she illuminates offer profoundly important guidance as we enter an era of increasingly difficult economic and political challenges."
"Collective Courage is an important addition to the body of work examining efforts to achieve economic development by African Americans. This book represents the culmination of Jessica Gordon Nembhard's long-standing and pathbreaking research in this area. The publication of Collective Courage will be warmly welcomed by scholars and community activists searching for development strategies that circumvent increasingly globalized predatory economic networks. The historical and contemporary examples of cooperative ventures discussed in the book will unquestionably serve as useful models for pursuing sustainable approaches to community development."
"Jessica Gordon Nembhard's excellent book provides a refreshing antidote to the straitjacket on our imagination of better ways to organize our economic lives. Our economic lives can be both just and productive. Gordon Nembhard cogently demonstrates that black cooperative models offer a non-utopian route toward meeting both goals."
"Collective Courage makes a very strong case for the historical and continuing importance of cooperatives as a strategy for African American economic, social, and political development. Given the emphasis on pooled resources, cooperative economic development is an approach that gets around the constraints of limited wealth among African American individuals and families. Moreover, this volume clearly demonstrates that cooperatives have 'joint outputs'

—

that is, in addition to producing a particular good or service, a cooperative frequently produces other valuable social services, civic involvement, leadership development, and managerial expertise that is transferable to activities beyond the particular cooperative enterprise. Jessica Gordon Nembhard concludes that cooperatives have been successful in the past and also present the opportunity for expanded self-reliance in the future.
"The originality of this book is substantial. I am unaware of any similar work. This volume shows that Gordon Nembhard is a leading scholar on the role of cooperative economic development activities among African Americans. This well-organized text will be useful to general interest readers, undergraduate and graduate students, policy makers, and practitioners."
"Though the cooperative movement in the United States is one of the largest in the world, it is routinely ignored or marginalized by observers, particularly in the academic world. This book, based on years of multidimensional research in many sources by Jessica Gordon Nembhard, fills a particularly glaring gap in our understanding of that movement. It carefully documents how many African Americans have explored the cooperative option over the years, in the process making a major contribution to the fields of cooperative studies and African American studies."
"In her inspiring book Collective Courage, Jessica Gordon Nembhard has compiled the most complete history to date of the cooperative economic struggles of African Americans from early times until now. Following in the profound footsteps of W. E. B. Du Bois, she has illuminated the historical roots of African American economic cooperation and thus made a vital contribution to the knowledge so badly needed today for African Americans and all people to come together in mutual aid and, by their common efforts, rise above all economic obstacles."
"[A] fascinating history of African American cooperatives."
"Collective Courage is truly a book to be celebrated and not merely reviewed. A book to read and re-read, one that gives voice to a long neglected and embattled history, and which can contribute massively to new and far more democratized and humane forms of social and economic life than those to which we are accustomed or resigned."
"With the 'free market' increasingly predatory toward poor and working poor people, seeking to turn poverty itself into a profit center, Jessica Gordon Nembhard's book couldn't be more timely. If cooperative economic arrangements have any future we must first learn their vital past."
"[Collective Courage is] full of suggestions and lessons that can be used by any group seeking to empower itself through cooperative organization. The range of concepts covered—from the Antigonish method of development, the needs of cooperative development and the impact of co-ops on community development—gives the book applications well beyond the badly needed African-American cooperative history.
". . . The history of African-American cooperative practice, as documented in this volume, clearly demonstrates how a group of oppressed people, in the face of pain and grief, persisted relentlessly to provide themselves economic independence, and political freedom, but also, thankfully, a model, and lessons of development, inclusion and diversity that can benefit all of us."
"This elaborate historical portrait of the cooperative movement in the African American community is an important academic reference. Nembhard articulates a business model rooted in the values of a community, which will resonate well with those who work to create community-centered enterprises. To do so, the author delves into the past of the movement that generated this model, documenting the historical experience of a community working hard to create an economic base to support long-term growth and social mobility. The book illustrates how social structures and deliberate acts frustrated or destroyed early attempts to create this economic base rooted in the community's values, and it also extends this historical chronicle to the present to help readers understand why the economic base of the community is still so fragile. For those wishing to turn back the page of history to explore collaborative, community-based economic development, this book will offer a window of insight, a template for action, and a framework grounded in African American culture and values. 'Lift as you climb,' a traditional phrase reflecting one of these many values, serves as a powerful call to readers for past and future community empowerment and growth."
"This work encourages readers to view African American economic and political history through a new lens. Information from primary source materials provides a unique perspective on a critical but underexamined aspect of African American resistance to economic arrangements that have created and perpetuated racialized disparities in wealth and points out that this resistance began well before the Civil War."
"A book worth reading. Those who are interested in the social and historical context of African American struggle for equal rights and social justice, political struggle, the role of women in social change, heroic leadership, and in grassroots activism will find some precious nuggets of information. In short, Nembhard makes an important contribution to African American economic history that should interest educators and economists alike."
Jessica Gordon Nembhard is Associate Professor of Community Justice and Social Economic Development in the Department of Africana Studies at John Jay College, City University of New York.
Contents
Acknowledgments
Introduction: A Continuous and Hidden History of Economic Defense and Collective Well-Being
Part I: Early African American Cooperative Roots
1 Early Black Economic Cooperation: Intentional Communities, Communes, and Mutual Aid
2 From Economic Independence to Political Advocacy: Cooperation and the Nineteenth-Century Black Populist Movement
3 Expanding the Tradition: Early African American–Owned "Cooperative" Businesses
Part II: Deliberative Cooperative Economic Development
4 Strategy, Advocacy, and Practice: Black Study Circles and Co-op Education on the Front Lines
5 The Young Negroes' Co-operative League
6 Out of Necessity: The Great Depression and "Consumers' Cooperation Among Negroes"
7 Continuing the Legacy: Nannie Helen Burroughs, Halena Wilson, and the Role of Black Women
8 Black Rural Cooperative Activity in the Early to Mid-Twentieth Century
Part III: Twentieth-Century Practices, Twenty-First-Century Solutions
9 The Federation of Southern Cooperatives: The Legacy Lives On
10 Economic Solidarity in the African American Cooperative Movement: Connections, Cohesiveness, and Leadership Development
Time Line of African American Cooperative History, 1780–2012: Selected Events
Notes
References
Index
Mailing List
Subscribe to our mailing list and be notified about new titles, journals and catalogs.