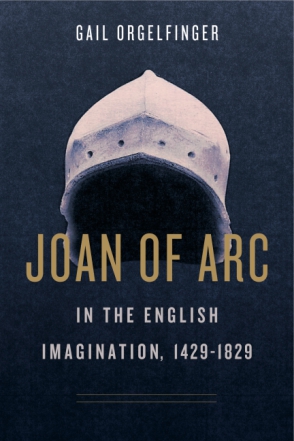 Joan of Arc in the English Imagination, 1429–1829
Gail Orgelfinger
BUY
Joan of Arc in the English Imagination, 1429–1829
Gail Orgelfinger
"Well researched and vibrantly composed, Gail Orgelfinger's Joan of Arc in the English Imagination, 1429–1829 traces the translations over time of the French heroine into a figure reviled and then embraced across the Channel. Through careful attention to an impressive array of sources, Orgelfinger offers to medieval studies and medievalism alike a not-to-be-missed book about how gender, national rivalries, temporal distance, fantasy, and historical fact enmesh over the centuries to keep the past alive in surprising new forms."
Description

Reviews

Bio

Subjects
In this book, Gail Orgelfinger examines the ways in which English historians and illustrators depicted Joan of Arc over a period of four hundred years, from her capture in 1429 to the early nineteenth century.
The variety of epithets attached to Joan of Arc—from "witch" and "Medean virago" to "missioned Maid" and "shepherd's child"—attests to England's complicated relationship with the saint. While portrayals of Joan in English popular culture evolved over the centuries, they do not follow a straightforward trajectory from vituperation to adulation. Focusing primarily on descriptions of Joan's captivity, trial, and execution, this study shows how the exigencies of politics and the demands of genre shaped English retellings of her military successes, gender transgressions, and execution at the hands of her English enemies. Orgelfinger's research illuminates how and why English writers and artists used the memory of Joan of Arc to grapple with issues such as England's relationship with France, emerging protofeminism in the early modern era, and the sense of national guilt over her execution.
A systematic analysis of Joan's English historiography in its political and social contexts, this volume sheds light on four centuries of English thought on Joan of Arc. It will be welcomed by specialist and general readers alike, especially those interested in women's studies.
"Well researched and vibrantly composed, Gail Orgelfinger's Joan of Arc in the English Imagination, 1429–1829 traces the translations over time of the French heroine into a figure reviled and then embraced across the Channel. Through careful attention to an impressive array of sources, Orgelfinger offers to medieval studies and medievalism alike a not-to-be-missed book about how gender, national rivalries, temporal distance, fantasy, and historical fact enmesh over the centuries to keep the past alive in surprising new forms."
"Most often the English perspective on Joan has been simply dismissed as resentment for her influential role in their ultimate defeat in the Hundred Years' War. In this book, Orgelfinger shows that the English afterlife of Joan is far more complex and interesting.... This is an excellent book that will appeal to scholars, students, and the large number of Joan of Arc fans outside of academia."
Gail Orgelfinger is Senior Lecturer Emerita at the University of Maryland, Baltimore County.
Mailing List
Subscribe to our mailing list and be notified about new titles, journals and catalogs.