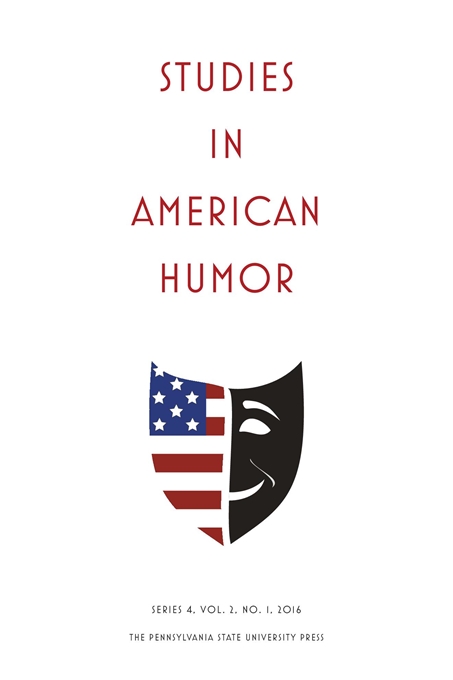 Studies in American Humor
Judith Yaross Lee, Editor
SUBSCRIBE / RENEW
Studies in American Humor
Judith Yaross Lee, Editor
Description

Board

Submissions

Pricing

Indexing
Studies in American Humor publishes articles on topics, themes, practices, practitioners, and media across the wide spectrum of American humor, past and present, for an audience made up primarily of scholars and students in the humanities, especially literary and cultural studies. StAH values new transnational and interdisciplinary approaches as well as traditional critical and historical humanities scholarship.
Published continuously since 1982, Studies in American Humor is the official journal of the American Humor Studies Association.
Editor
Judith Yaross Lee, Ohio University
Managing Editor
Christy Zempter, Ohio University
Associate Editor
James E. Caron, University of Hawai'i at Manoa
Book Review Editor
David Gillota, University of Wisconsin-Platteville
Editorial Board
John Alberti, Northern Kentucky University
Regina Barreca, University of Connecticut
John Bird, Winthrop University
Gregg Camfield, University of California, Merced
Joseph Csicsila, Eastern Michigan University
Joanne Gilbert, Alma College
Jennifer Greenhill, University of Illinois at Urbana-Champaign
Alan Gribben, Auburn University, Montgomery
Bambi Haggins, Arizona State University
Lawrence Howe, Roosevelt University
Lanita Jacobs, University of Southern California
Holger Kersten, Otto Von Guericke Universität, Madegburg
Karen Kilcup, University of North Carolina at Greensboro
Rob King, Columbia University
John Wharton Lowe, University of Georgia
Sharon D. McCoy, University of Georgia
Bruce Michelson, University of Illinois at Urbana-Champaign
Linda A. Morris, University of California, Davis
Peter Murphy, Murray State University
Ed Piacentino, High Point University
Scott Romine, University of North Carolina at Greensboro
Derek Parker Royal, University of Texas at Dallas
Laura Skandera-Trombley, Huntington Library
Joseph Slade, Ohio University
David E. E. Sloane, University of New Haven
Call for Papers
Deadline: Open Call
Submissions of manuscripts of between 5000 and 8000 words are welcome on any topic, theme, practice, practitioner, and medium of American humor. To submit a manuscript to the editorial office, please visit http://www.editorialmanager.com/sah and create an author profile. The online system will guide you through the steps to upload your manuscript.
Authors are responsible for securing permissions if their accepted submissions contain copyrighted material beyond fair use. All contributors must be members in good standing of the American Humor Studies Association (AHSA) at the time of publication. Membership information is available via the AHSA website.
Institutional Print & Online - $160.00
Institutional Print or Online - $114.00
Institutional Single Issue - $63.00
Individual Print & Online - $68.00
Individual Print or Online - $48.00
Individual Single Issue - $32.00
Outside US add Shipping & Handling - $15.00
IBZ
MLA International Bibliography
Mailing List
Subscribe to our mailing list and be notified about new titles, journals and catalogs.