New and Forthcoming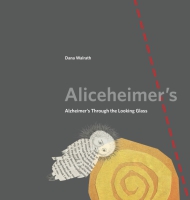 Alzheimer's Through the Looking Glass
"A deeply moving, informative, and funny memoir by a woman watching her mother's descent into Alzheimer's disease. The collaged drawings are a perfect counterpoint to the writing."
"Dana Walrath's images evoke Alice in a way that text alone cannot, creating a symbiotic relationship between text and image in this work. Walrath's style is gentle and specific, naive and yet quite sophisticated about the past and the present."
Learn More »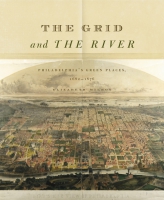 Philadelphia's Green Places, 1682–1876
"The Grid and the River is magisterial. It is both an immensely erudite history and a compelling narrative of the shaping of Philadelphia, whose famous grid plan and immense park system are among the world's most distinctive man-made environments. Philosophy, sociology, technology, politics, and art are all shown to have been actors in the making of Philadelphia's spaces from the city's founding until the end of the nineteenth century. In telling their complex story, Elizabeth Milroy has written the best general history of the city in a generation."
Learn More »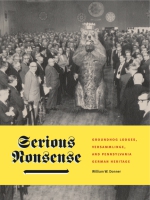 Groundhog Lodges, Versammlinge, and Pennsylvania German Heritage
"Donner opens the doors of the groundhog lodges and shows us the captivating look, feel, and sound of the lodges' sometimes serious, sometimes jolly, always meaningful festivities. His riveting narrative and eye-opening photographs reveal, as no one to date has done before, the cultural dynamics of Pennsylvania German language, tradition, and identity within a changing world. This is a marvelous book, not just about a fascinating Pennsylvania German institution and its activities, but ultimately about organizing heritage in and out of the public eye."
Learn More »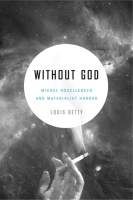 Michel Houellebecq and Materialist Horror
"Michel Houellebecq is the most important novelist writing about religion today, and Louis Betty has written the first book to explore Houllebecq's views on religion. Betty guides the reader through Houellebecq's oeuvre, makes French discussions of Houellebecq accessible to English-speaking audiences, and situates Houellebecq's work in the context of recent scholarly discussions about the secular. This book should be of broad interest to scholars of religion and literature as well as to those interested in contemporary French thought."
Learn More »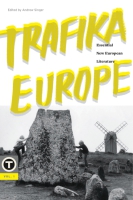 Essential New European Literature, Vol. 1
"Trafika Europe performs a unique service, helping to keep together, and actually helping to bind together, the diverse and often mutually unknown and unrecognized cultures of Europe through the most basic and effective means possible: the heart and the creative imagination. Literature is the great harmonizer, the road to the discovery of common roots and the prospect of a common destiny. Readers of Trafika Europe will benefit from the rich literary heritage of this great cultural sphere."
Learn More »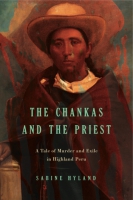 A Tale of Murder and Exile in Highland Peru
"Based on an amazing wealth of documentation gleaned from archives and private collections on three continents, this marvelous microhistory brings to life the world of the Andean villagers of Pampachiri as they fall under the ruthless exploitation of a sadistic priest. Beginning with a series of events in this small village during the late sixteenth century, Sabine Hyland weaves a vivid story of the foundations and persistence of Chanka ethnicity, the role of the church and its clergy, and the nature of Spanish colonialism. In so doing, she provides a more balanced evaluation of the construction of a new social order."
Learn More »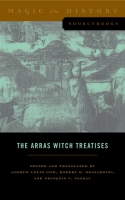 Johannes Tinctor's Invectives contre la secte de vauderie and the Recollectio casus, status et condicionis Valdensium ydolatrarum by the Anonymous of Arras (1460)
"This important work sheds much light on the fifteenth-century origins of the witch craze. The 'elaborated theory' of witchcraft described here is absolutely fascinating, not just because it predates the classic era of witch hunting by a century but also because it was so incoherent and contentious and yet terrifyingly relevant to changing social and political conditions. This is a story about medieval superstition as well as the modernity of print and law and state building."
Learn More »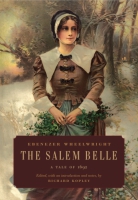 "It is wonderful to have The Salem Belle back in print, edited expertly by Richard Kopley. Published eight years before The Scarlet Letter, Ebenezer Wheelwright's novel was an important part of the cultural mix behind Hawthorne's masterpiece, as Kopley demonstrates in his perceptive introduction. The Salem Belle also stands on its own as a thought-provoking novel about Puritan times written from the perspective of nineteenth-century America."
Learn More »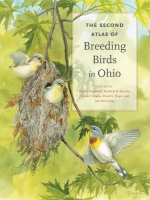 Twenty-five years after the publication of the state's first breeding bird atlas, The Second Atlas of Breeding Birds in Ohio brings our knowledge of the state's bird populations up to date and provides important new information. The Atlas documents the current distribution and changes in status for more than two hundred bird species in Ohio, including five new breeding species, four species not known to have bred in over fifty years, and seventeen species not recorded as breeding in the first Atlas.
Learn More »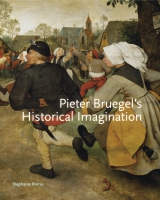 "A thoughtful, intelligent, and learned book. Stephanie Porras culminates many (lesser but) related studies on Pieter Bruegel with new material and a defining argument and provides the most current assessment of the painter's peasant subjects. For art historians it will serve as a rich mine of cultural history, literary history, intellectual history, and even music history about Flemish culture on the eve of the Dutch Revolt."
Learn More »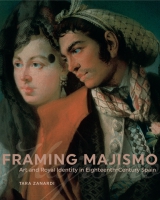 Art and Royal Identity in Eighteenth-Century Spain
"Through a thorough and cogent analysis of multiple images of majas and majos by canonical artists from Goya to Picasso, in fashion catalogs, costumbrista illustrations, and tapestry cartoons, Tara Zanardi traces the cultural phenomenon of majismo among eighteenth-century Spanish elites, which came to be associated with 'true' Spanish identity into the twentieth century. Despite attempts to connect to Spanish tradition, majismo ultimately projected ambiguous national, gender, and class identities that can still be seen in Spain today."
Learn More »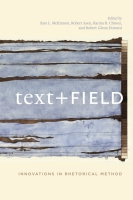 Innovations in Rhetorical Method
"Text + Field productively emphasizes the praxis of methodology, augmenting and amplifying the innovative possibilities available to students and scholars researching the rhetoric of everyday life. The collection advocates for methods that are ethically responsive as well as intellectually insightful, looking to embodied approaches such as interviewing, critical ethnography, participant-observation, and personal narrative. The book implores us to revisit traditional rhetorical concepts such as text, context, audience, and judgment, employing provocative case studies to underscore its theoretical and methodological stakes."
Learn More »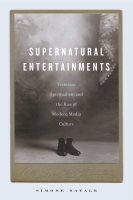 Victorian Spiritualism and the Rise of Modern Media Culture
"Approaching Victorian supernaturalism as popular spectacle, Natale makes a compelling argument that nineteenth-century spiritualism made a significant contribution to what would become the dominant religion of the twentieth century: the entertainment industry. Rather than seeing the spiritualists and their energetic followers as gullible or deluded, Natale explores the more fascinating possibility that medium, circle, and audience helped redefine the possibilities of domestic leisure and public performance."
Learn More »
Join
Sign up for e-mail notifications about new books and catalogs!
Featured Journal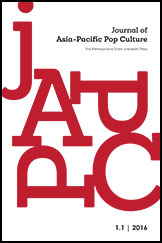 Fashion? Film? Fandom? The Journal of Asia-Pacific Pop Culture offers this and more in this new peer-reviewed journal! Many popular culture areas including visual arts, cartoons, biography, entertainment, gender and media are explored with an international focus. It is the official journal of the Popular Culture Association of Australia, Asia, and New Zealand. Join JAPPC in its inaugural year and subscribe today!
Latest News
Featured Partner

The mission of the Rock Ethics Institute is to promote ethical literacy and catalyze ethical leadership throughout the Penn State community and to foster interdisciplinary ethics research designed to address significant social issues and pressing world problems.
YOUR SHOPPING CART (
EMPTY
)