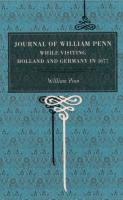 Journal of William Penn
While Visiting Holland and Germany, in 1677
Copyright: 1879
Dimensions: 5 x 8
Page Count: 196 pages
Paperback ISBN: 978-0-271-02754-8
Series Name: Metalmark
Paperback Edition: $30.95
This book is available open access. Read it here.
---
This volume includes William Penn's firsthand account of his 1677 travels in Holland and Germany while visiting Quaker congregations and preaching his message of religious toleration. It includes daily entries, in which Penn recounts his visits and meetings with various parties. Penn details numerous interactions with Quakers and those of other faiths, and the persecution he faced on the journey. Daily recollections are interspersed with texts of numerous letters, addresses, and epistles on Penn's religious philosophy, along with notes on his own religious awakening and the religious climate of Europe at the time.
This document serves to help readers understand Penn's early years, before he obtained the charter for Pennsylvania in 1681, and his background as a member of the Religious Society of Friends alongside its founder, George Fox.
View a digital version of this book online at the Penn State University Libraries website.
Other Ways to Acquire
Buy from Amazon.com

Buy from an Independent Bookstore
Buy from Powell's Books
Buy from Barnes and Noble.com
Find in a Library
Join
Sign up for e-mail notifications about new books and catalogs!