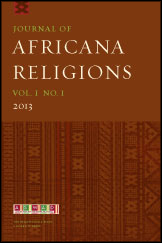 Journal of Africana Religions
Edward E. Curtis IV
Sylvester A. Johnson

Biannual Publication
ISSN 2165-5405
E-ISSN 2165-5413


The Journal of Africana Religions publishes critical scholarship on Africana religions, including the religious traditions of African and African Diasporic peoples as well as religious traditions influenced by the diverse cultural heritage of Africa. An interdisciplinary journal encompassing history, anthropology, Africana studies, gender studies, ethnic studies, religious studies, and other allied disciplines, the Journal of Africana Religions embraces a variety of humanistic and social scientific methodologies in understanding the social, political, and cultural meanings and functions of Africana religions.
The chronological scope of the journal is comprehensive and invites research into the history of Africana religions from ancient to contemporary periods. The journal's geographical purview is global and comprises Africa, the Americas, Asia, the Atlantic islands (such as Cape Verde and São Tomé), the Caribbean, and Europe. The journal is particularly concerned with publishing research on the historical connections and ruptures involved in the spread of Africana religions from within and beyond Africa. Emphasizing the historical movement or spread of Africana religions and the dynamic transformations they have undergone underscores the nuanced, complex history of these religions and transcends the essentializing gestures that have hindered previous generations of scholarship. For this reason, we encourage authors to examine multiple dimensions of Africana religions, including the relationship between religion and empire, slavery, racism, modern industrial capitalism, and globalization.
The journal is co-sponsored by the Association for the Study of the Worldwide African Diaspora. Additional institutional sponsors of the journal include Northwestern University and the IU School of Liberal Arts at IUPUI. The journal's editorial offices are located at Northwestern.
Find Journal of Africana Religions on Facebook! And follow JOAR on Twitter!
About Our Journals
Sign up for eTOCs through either JSTOR or Project MUSE!
Our journals are available electronically through JSTOR


and Project MUSE.
Penn State University Press Journals are distributed by Johns Hopkins University Press Fulfillment Services. By selecting the 'Subscribe' option, you will be redirected to the JHUP shopping cart for order processing. 'Johns Hopkins University Press' will appear on credit card statements
Pennsylvania History offers older issues via Open Access through the Office of Digital Scholarly Publishing
To contact the journals department with general questions about the program or to request article reprints, .