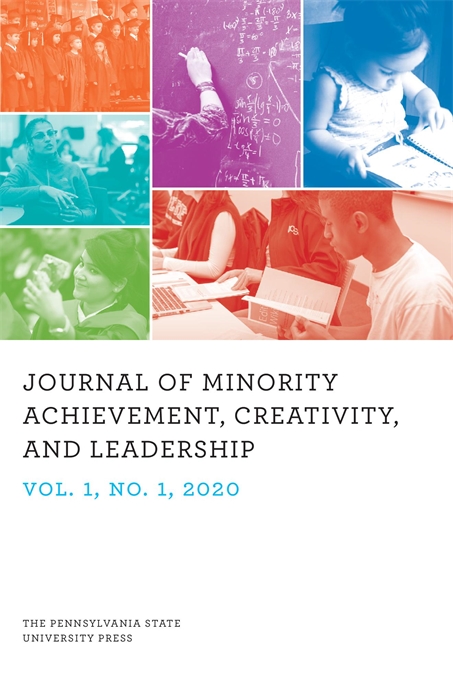 Journal of Minority Achievement, Creativity, and Leadership
Fred A. Bonner II, Editor
SUBSCRIBE / RENEW
Journal of Minority Achievement, Creativity, and Leadership
Fred A. Bonner II, Editor
Description

Board

Submissions

Pricing
The Journal of Minority Achievement Creativity and Leadership underscores achievement, creativity, and leadership among gifted and high-achieving minority populations across the P-20 continuum. The journal aims to provide a range of information that foregrounds asset-based as opposed to deficit-oriented models for academics as well as practitioners in P-12 and higher education contexts.
The Journal will be affiliated with the MACH-III Center at Prairie View A&M University.
Editor
Fred A. Bonner II, Prairie View A&M University
Managing Editor
Stella Smith, Prairie View A&M University
Associate Editor
aretha marbley, Texas Tech University
Assistant Editor
William Smith, University of Utah
Editorial Board
Mary Frances Agnello, Akita International University
Mary Alfred, Texas A&M University
Judy Alston, Ashland University
Dorinda Carter Andrews, Michigan State University
Rosie Banda, Texas A&M Corpus Christi
Terah Chambers, Michigan State University
Joshua Childs, The University of Texas at Austin
Felecia Commodore, Old Dominion University
James Earl Davis, Temple University
Alonzo Flower, Drexel University
Donna Ford, Vanderbilt University
Mark Giles, University of Texas San Antonio
Ramon Goings, Loyola University, Maryland
Elsa Gonzalez, University of Houston
Mark Anthony Gooden, Teachers College, Columbia University
Frank Harris III, San Diego State University
Nicholas Hartlep, Berea College
Kevin Henry, University of Arizona
Mary Howard-Hamilton, Indiana State University
Jerlando Jackson, University of Wisconsin-Madison
Barbara Johnson, Arkansas Tech University
Nicole Joseph, Vanderbilt University
Chance W. Lewis, University of North Carolina Charlotte
Luis Leyva, Vanderbilt University
Michael Mobley, Salem State University
James Moore, The Ohio State University
Jerrel Moore, Prairie View A&M University
Maricela Oliva, University of Texas San Antonio
Robert Palmer, Howard University
Henrietta Pichon, New Mexico State University
Spencer Platt, University of South Carolina
Luis Ponjuan, Texas A&M University
Richard Reddick, Univeristy of Texas at Austin
Petra Robinson, Louisiana State University
Victor Saenz, University of Texas
Lawrence Scott, Texas A&M University, San Antonio
Daniel Spikes, University of South Carolina
Christine Stanley, Texas A&M University
Terrell Strayhorn, LeMoyne-Owen College
James Swartz, Miami University of Ohio
Leonard Taylor, Mississippi State University
Saundra Tomlinson Clarke, Rutgers University
Frank Tuitt, University of Denver
Caroline Turner, Californate State University, Sacramento
Cynthia Tyson, The Ohio State University
Chezare Warren, Michigan State University
Gilman Whiting, Vanderbilt University
J. Luke Wood, San Diego State University
Sally J. Zepeda, University of Georgia
To submit a manuscript to Journal of Minority Achievement, Creativity, and Leadership, please visit Editorial Manager. The online system will guide you through the steps to upload your article to the editorial office.
Subject areas and disciplines for submissions include:
*African American Studies/Black Studies
*Multicultural Education
*Equity/Diversity/Inclusion Studies
*Cultural and Ethnic Studies
*Counseling/Counselor Education
*Higher Education and Student Affairs
*Teacher Education
*Sociology
*Urban Education
*LBTQI Studies
*Giftedness and Creativity
*Leadership/Leadership Studies
*STEM Education
*Minority Studies
*Educational Psychology
*Educational Administration/Leadership
*Race and Gender Studies
*Qualitative Research Methods
*Educational Policy
**Education, Counseling, Psychology, Sociology, Anthropology, Research Method (AREAS)
Institutional Print & Online - $176.00
Institutional Print or Online - $126.00
Institutional Single Issue - $68.00
Individual Print & Online - $54.00
Individual Print or Online - $41.00
Individual Single Issue - $26.00
Outside US add Shipping & Handling - $20.00