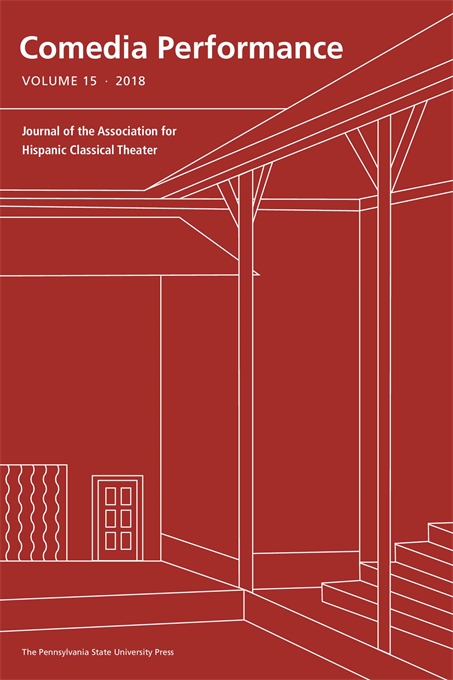 Comedia Performance
Journal of the Association for Hispanic Classical Theater
Barbara Mujica, Editor
SUBSCRIBE / RENEW
Comedia Performance
Journal of the Association for Hispanic Classical Theater
Barbara Mujica, Editor
Description

Board

Submissions

Pricing
Comedia Performance publishes articles on diverse aspects of performance of the Spanish comedia and other early modern theatrical forms. Appropriate subjects for articles include, but are not limited to, historical or modern staging of the comedia, translating the comedia for the stage, performance theory, textual issues pertaining to performance, historical issues such as audience composition, corral design, costuming, blocking, set design, and spectator response. Comedia Performance does not publish text-based literary studies. The journal also publishes interviews with directors and actors, theater reviews, and book reviews.
Comedia Performance is the official journal of the Association for Hispanic Classical Theater, an international organization devoted to the study of the comedia and other forms of early modern Spanish theater. The Association counts among its members literary scholars, theatrical directors and producers, teachers, and other aficionados of Spain's Golden Age of Theater.
Editor
Barbara Mujica, Georgetown University
Managing Editor
Tania de Miguel Magro, West Virginia University
Book Review Editor
Sharon Voros, US Naval Academy
Theater Review Editor
Darci Strother, California State University San Marcos
Interviews Editor
Michael McGrath, Georgia Southern University
Editorial Board
Isaac Benabu, University of Jerusalem
Donald Dietz, Arizona State University
Susan L. Fischer, Bucknell University
Donald Larson, Ohio State University
Dakin Matthews, independent scholar
Susan Paun de García, Denison University
Ángel Sánchez, Arizona State University
Jonathan Thacker, Oxford University
Christopher Weimer, Oklahoma State University
To submit an article to Comedia Performance, please visit http://www.editorialmanager.com/comedia. The online system will guide you through the steps to upload your article to the editorial office.
Our mission is to highlight performance as the central aspect of theater. Although text is an essential component of the comedia, plays are written to be performed, not read. Comedia Performance strives to direct scholarly attention to this fundamental truth.
Institutional Print & Online - $176.00
Institutional Print or Online - $126.00
Institutional Single Issue - $131.00
Individual Print & Online - $74.00
Individual Print or Online - $51.00
Individual Single Issue - $56.00
Outside US add Shipping & Handling - $19.00
Mailing List
Subscribe to our mailing list and be notified about new titles, journals and catalogs.