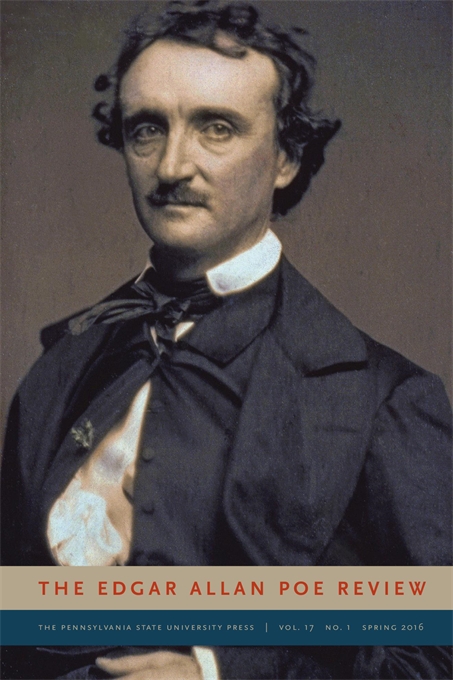 The Edgar Allan Poe Review
Barbara Cantalupo, Editor
SUBSCRIBE / RENEW
The Edgar Allan Poe Review
Barbara Cantalupo, Editor
Description

Board

Submissions

Pricing

Indexing
The Edgar Allan Poe Review publishes scholarly essays on and creative responses to Edgar Allan Poe, his life, works, and influence and provides a forum for the informal exchange of information on Poe-related events.
EAPR is the official publication of the Poe Studies Association.
Editor
Barbara Cantalupo, The Pennsylvania State University
Editorial Board
David C. Cody, Hartwick College
Dennis W. Eddings, Western Oregon University
Benjamin Franklin Fisher III, University of Mississippi
Erin Forbes, University of Bristol
Alexander Hammond, Washington State University
Sandra Hughes, Western Kentucky University
J. Gerald Kennedy, Louisiana State University
Richard Kopley, The Pennsylvania State University, DuBois
Kent Ljungquist, Worcester Polytechnic Institute
Sean Moreland, University of Ottawa
Jonathan Murphy, Texas A&M University
Scott Peeples, College of Charleston
Dennis Perry, Brigham Young University
Philip Edward Phillips, Middle Tennessee State University
Stephen Rachman, Michigan State University
Margartia Rigal-Aragón, University of Castilla-La Mancha
Jeffery Savoye, The Edgar Allan Poe Society of Baltimore
Carole Shaffer-Koros, Kean University
Alexandra Urakova, Russian State University for the Humanities
If you would like to submit an article to The Edgar Allan Poe Review please visit http://www.editorialmanager.com/poe/ and create an author profile. The online system will guide you through the steps to upload your article for submission to the editorial office.
Please direct all inquiries about book reviews and books for submission to .
Institutional Print & Online - $233.00
Institutional Print or Online - $167.00
Institutional Single Issue - $87.00
Individual Print & Online - $71.00
Individual Print or Online - $50.00
Individual Single Issue - $33.00
Outside US add Shipping & Handling - $19.00
Emerging Sources Citation Index
IBZ
MLA International Bibliography
Scopus
Mailing List
Subscribe to our mailing list and be notified about new titles, journals and catalogs.