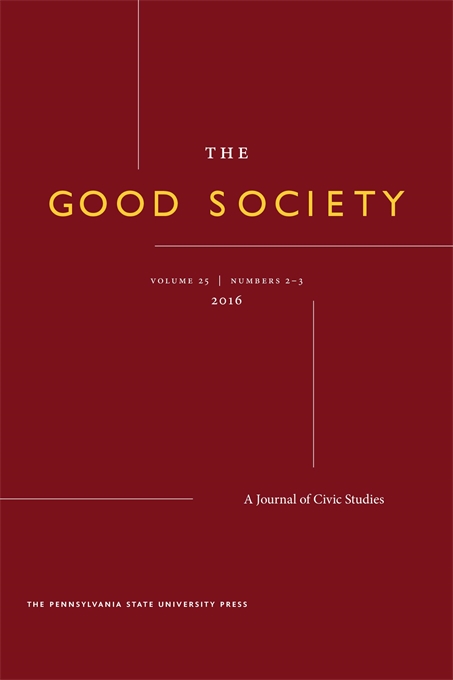 The Good Society
A Journal of Civic Studies
Trygve Throntveit, Editor
SUBSCRIBE / RENEW
The Good Society
A Journal of Civic Studies
Trygve Throntveit, Editor
Description

Board

Submissions

Pricing

Indexing
Articles in The Good Society respond to the premise that "current versions of socialism and democratic capitalism fail to offer workable visions of a good society and seem increasingly to contradict such basic values as liberty, democracy, equality, and environmental sustainability." The journal publishes outstanding dialectical articles on the pressing political, social, religious, and legal questions facing twenty-first-century society and aims to "create a theoretical basis for the eventual restructuring of real world political-economic systems."
Editor
Trygve Throntveit, University of Minnesota
Senior Editors
Steve Maloney, University of St. Thomas
Joshua Miller, Loyola University Maryland
Sarah Shugars, Northeastern University
Managing Editor
Rebecca Shamash, University of Minnesota
Editorial Board
Paul Dragos Aligica, George Mason University
Harry C. Boyte, Augsburg University
Peter Levine, Tufts University
Karol Edward Soltan, University of Maryland
Founding Editor
Stephen Elkin, University of Maryland
To submit a manuscript to the editorial office, please visit http://www.editorialmanager.com/gs and create an author profile. The online system will guide you through the steps to upload your article for submission to the editorial office.
Institutional Print & Online - $213.00
Institutional Print or Online - $152.00
Institutional Single Issue - $82.00
Individual Print & Online - $75.00
Individual Print or Online - $51.00
Individual Single Issue - $31.00
Outside US add Shipping & Handling - $20.00
IBZ
MLA International Bibliography
SCOPUS