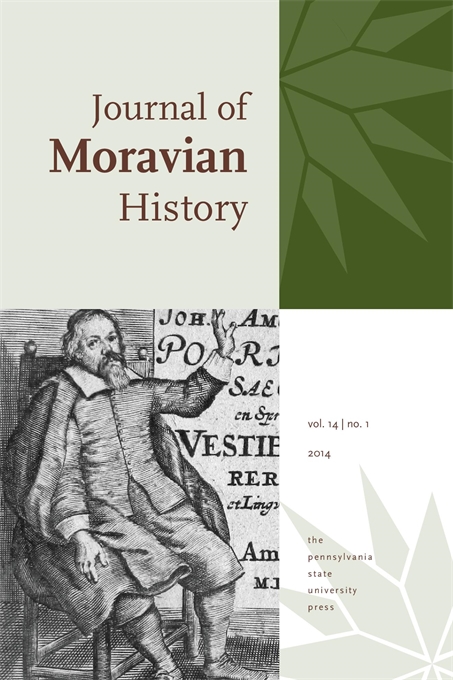 Journal of Moravian History
Paul M. Peucker, Editor
SUBSCRIBE / RENEW
Journal of Moravian History
Paul M. Peucker, Editor
Description

Board

Submissions

Pricing

Indexing
The Journal of Moravian History is a peer-reviewed English language journal, which publishes scholarly articles and reviews publications in all areas of the history of the Unitas Fratrum (Moravian Church, Herrnhuter Brüdergemeine). The Journal also publishes research notes and original primary source materials relating to the Unitas Fratrum.
One of the fascinating aspects of the history of Christianity is its incredible diversity of expression and evolution, particularly as Christianity left Europe, bound for the shores of America. The Moravian Church (Unitas Fratrum or "Unity of the Brethren") arose in what is now known as the Czech Republic in the late fourteenth century. Fleeing persecution, the Moravians arrived in North America, settling especially in Bethlehem, Pennsylvania, and later in what is now Winston-Salem, North Carolina. The history of the Moravian Church is vital for understanding not only European church history but also the history of the church in North America.
The Journal of Moravian History is the official journal of the Moravian Archives and the Moravian Historical Society.
Editor
Paul M. Peucker, Moravian Archives, Bethlehem
Book Review Editor
Heikki Lempa, Moravian College
Editorial Board
Craig D. Atwood, Moravian Theological Seminary
Kate Carté Engel, Southern Methodist University
Katherine M. Faull, Bucknell University
Scott Paul Gordon, Lehigh University
Jindřich Halama, Charles University, Prague
Felicity Jensz, Westfälische Wilhelms-Universität Münster
Colin Podmore, London, England
A. Gregg Roeber, The Pennsylvania State University
Jon Sensbach, University of Florida
Peter Vogt, Predigerseminar der Brüder-Unität, Niesky, Germany
Rachel Wheeler, Indiana University-Purdue University Indianapolis
To submit a manuscript to the editorial office, please visit http://www.editorialmanager.com/jmhist and create an author profile. The online system will guide you through the steps to upload your article for submission to the editorial office.
Institutional Print & Online - $169.00
Institutional Print or Online - $116.00
Institutional Single Issue - $63.00
Individual Print & Online - $50.00
Individual Print or Online - $38.00
Individual Single Issue - $24.00
Outside US add Shipping & Handling - $15.00
ATLA
Emerging Sources Citation Index
IBZ
SCOPUS
Mailing List
Subscribe to our mailing list and be notified about new titles, journals and catalogs.