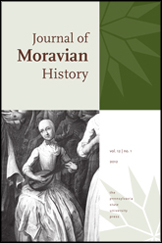 Journal of Moravian History
Paul M. Peucker, Editor

Biannual Publication
ISSN 1933-6632
E-ISSN 2161-6310




The Journal of Moravian History is a peer-reviewed English language journal, which publishes scholarly articles and reviews publications in all areas of the history of the Unitas Fratrum (Moravian Church, Herrnhuter Brüdergemeine). The Journal also publishes research notes and original primary source materials relating to the Unitas Fratrum.
One of the fascinating aspects of the history of Christianity is its incredible diversity of expression and evolution, particularly as Christianity left Europe, bound for the shores of America. The Moravian Church (Unitas Fratrum or "Unity of the Brethren") arose in what is now known as the Czech Republic in the late fourteenth century. Fleeing persecution, the Moravians arrived in North America, settling especially in Bethlehem, Pennsylvania, and later in what is now Winston-Salem, North Carolina. The history of the Moravian Church is vital for understanding not only European church history but also the history of the church in North America.
About Our Journals
Sign up for eTOCs through either JSTOR or Project MUSE!
Our journals are available electronically through JSTOR


and Project MUSE.
Penn State University Press Journals are distributed by Johns Hopkins University Press Fulfillment Services. By selecting the 'Subscribe' option, you will be redirected to the JHUP shopping cart for order processing. 'Johns Hopkins University Press' will appear on credit card statements
Pennsylvania History offers older issues via Open Access through the Office of Digital Scholarly Publishing
To contact the journals department with general questions about the program or to request article reprints, .