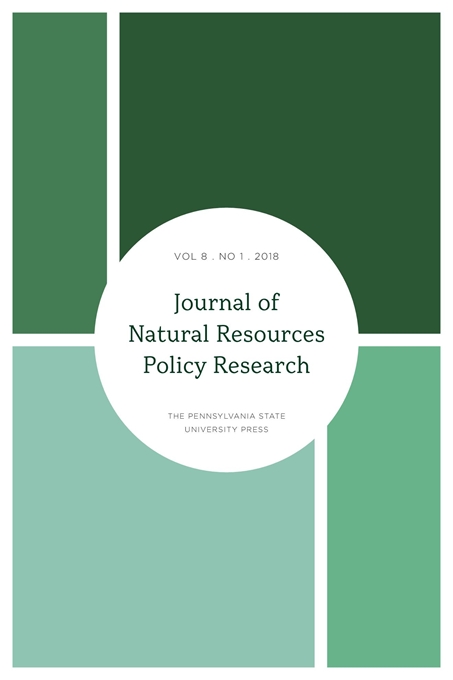 Journal of Natural Resources Policy Research
Laura McCann, Editor
SUBSCRIBE / RENEW
Journal of Natural Resources Policy Research
Laura McCann, Editor
Description

Board

Submissions

Pricing
Journal of Natural Resources Policy Research publishes original policy-oriented articles addressing a broad range of natural resource fields including water, minerals, energy, fisheries, and forestry in a synthesizing fashion, rather than as stand-alone specialty areas. It also publishes articles on the natural resource implications of climate change, natural disasters, and biodiversity loss, among others. Articles, ideally, will be based on conceptual and empirical studies and will be primarily policy-focused. The journal's goal is to foster productive dialog among the disparate sectors in the broad field of natural resources and among various social science perspectives leading to an improved understanding of institutional and economic dynamics and informed policy making.
Editor
Laura McCann, University of Missouri, USA
Editorial Board
David Alexander, University College London, UK
Asit K. Biswas, Third World Centre for Water Management, Mexico
Richard Damania, World Bank, Washington, DC, USA
Anthony Fisher, University of California at Berkeley, USA
Ray Huffaker, University of Florida, USA
Randall Kramer, Duke University, USA
John Loomis, Colorado State University, USA
Robert Mendelsohn, Yale University, USA
Alan Randall, University of Sydney, Australia
Geoffrey Rothwell, Stanford University, USA
Filippo Sabetti, McGill University, Canada
Harry N. Scheiber, University of California at Berkeley, USA
Robert M. Solow, Massachusetts Institute of Technology, USA
Alessandro Tavoni, London School of Economics, UK
Cecilia Tortajada, International Centre for Water, Zaragoza, Spain
Rick van der Ploeg, University of Oxford, UK
David Weisbach, University of Chicago, USA
Founding Editor
Chennat Gopalakrishnan, University of Hawaii at Manoa, USA
Journal of Natural Resources Policy Research is an international, peer-reviewed journal that publishes original research contributions to scientific knowledge. All manuscript submissions are subject to initial appraisal by the editor, and, if found suitable for further consideration, to peer review by independent, anonymous expert referees. To submit an article, please visit http://www.editorialmanager.com/jnrpr. The online system will guide you through the steps to upload your article to the editorial office.
Submit your paper for a Special Issue on Institutional Entropy: Causes, Consequences, and Corrective Measures
Guest Editors: Chennat Gopalakrishnan, University of Hawaii at Manoa, U.S.A
Laura M. McCann, University of Missouri, U.S.A
Recent years have witnessed a significant increase in the decline and fall of natural resources (e.g., water, energy, forestry, minerals, fisheries) institutions, in the US and globally, due to the corrosive impact of institutional entropy. The purpose of this special issue is to examine in detail the causes and consequences of institutional entropy and also suggest possible corrective measures.
Gopalakrishnan (2005) defines institutional entropy as "the progressive decrease in effectiveness and efficiency (of the institutions) in performing the goals and objectives as originally envisioned and set-forth." He goes on to point out that the intrusion of entropy "causes disarray in the inner workings of the affected institutions and, thus, renders them diminished in their ability to perform at peak efficiency."
Entropy, slowly but surely, penetrates, corrodes, and compromises the efficiency and effectiveness of institutions and renders them dysfunctional, over a period of time. Gopalakrishnan, in his research-in-progress (2018-), has identified the key elements of institutional efficiency and effectiveness. These include: 1) institutional resilience or adaptability, 2) institutional robustness or diminished vulnerability, 3) institutional autonomy, 4) institutional relevance, 5) institutional accountability, 6) institutional risk-taking, and 7) institutional innovation.
Institutions, that fail to keep up with social, economic, technological, environmental, political, and cultural changes that inevitably accompany the passage of time, render themselves severely vulnerable to entropy. Depending on the intensity of entropy, several of the key attributes of institutional efficiency and effectiveness, noted above, are compromised and institutional sustainability is imperiled with the passage of time.
The objective of this special issue is to shed light on the process and progression of institutional entropy. We are seeking original contributions that will clarify and illuminate all aspects of institutional entropy, using historical surveys, institutional analysis, econometric investigations, empirical reviews, and more. Policy-rich, cross-disciplinary, and transnational papers, including case studies, are welcome.
Please prepare your paper in accordance with the submission guidelines posted above.
Inquiries may be directed to the editor at .
Institutional Print & Online - $362.00
Institutional Print or Online - $259.00
Institutional Single Issue - $135.00
Individual Print & Online - $115.00
Individual Print or Online - $83.00
Individual Single Issue - $47.00
Outside US add Shipping & Handling - $20.00