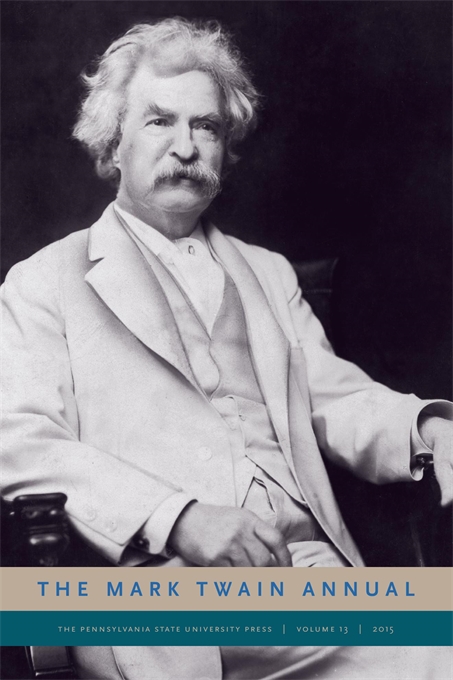 The Mark Twain Annual
Ben Click, Editor
SUBSCRIBE / RENEW
The Mark Twain Annual
Ben Click, Editor
Description

Board

Submissions

Pricing

Indexing
The Mark Twain Annual publishes articles related to Mark Twain and those who surrounded him and serves as an outlet for new scholarship as well as new pedagogical approaches. It is the official publication of the Mark Twain Circle of America, an international association of people interested in the life and work of Mark Twain.
The Circle encourages interest in Mark Twain and fosters the formal presentation of ideas about the author and his work, as well as the informal exchange of information among its members.
Editor
Ben Click, St. Mary's College of Maryland
Managing Editor
James S. Leonard, The Citadel
Associate Editor
Joseph Csicsila, Eastern Michigan University
Book Review Editor
Kerry Driscoll, University of Saint Joseph
Editorial Board
John Bird, Winthrop University
Jocelyn A. Chadwick, Harvard University
Lawrence Howe, Roosevelt University
Sharon D. McCoy, University of Georgia
Linda A. Morris, University of California, Davis
Chad Rohman, Dominican University
Ann Ryan, Le Moyne College
Matt Seybold, Elmira College
Laura Skandera-Trombley, University of Bridgeport
David E. E. Sloane, University of New Haven
Henry B. Wonham, University of Oregon
Tracy Wuster, University of Texas at Austin
Past Editors
John Bird, Winthrop University
Chad Rohman, Dominican University
Ann Ryan, Le Moyne College
The Mark Twain Annual publishes critical articles about Mark Twain, his fiction, and the literary and cultural legacy of his work. Biographical and historical articles will generally not be considered, unless such articles have a clear pedagogical focus. Critical articles may be 10–22 pages long. In addition, the Annual also accepts pedagogical articles, which are generally shorter. Book reviews are up to 4 pages and are assigned by the editor.
To submit a manuscript to the editorial office, please visit http://www.editorialmanager.com/mta/ and create an author profile. The online system will guide you through the steps to upload your article for submission to the editorial office.
Institutional Print & Online - $185.00
Institutional Print or Online - $132.00
Institutional Single Issue - $138.00
Individual Print & Online - $75.00
Individual Print or Online - $52.00
Individual Single Issue - $57.00
Outside US add Shipping & Handling - $20.00
Emerging Sources Citation Index
IBZ
MLA International Bibliography
Scopus