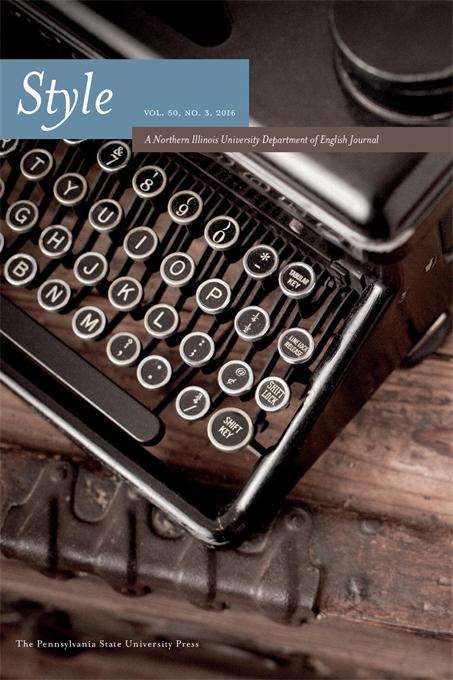 Style
John V. Knapp, Editor
SUBSCRIBE / RENEW
Style
John V. Knapp, Editor
Description

Board

Submissions

Pricing

Indexing
Style addresses questions of style, stylistics, and poetics including research and theory in discourse analysis, literary and nonliterary genres, narrative, figuration, metrics, rhetorical analysis, and the pedagogy of style. Contributions may draw from such fields as literary criticism, critical theory, computational linguistics, cognitive linguistics, philosophy of language, and rhetoric and writing studies. In addition, Style publishes reviews, review-essays, surveys, interviews, translations, enumerative and annotated bibliographies, and reports on conferences, Web sites, and software.
Editor
John V. Knapp, Northern Illinois University
Book Review Editor
William Baker, Northern Illinois University
Advisory Board
Joseph Carroll, University of Missouri, St. Louis
Seymour Chatman, University of California, Berkeley
Lubomír Doleñel, University of Toronto, Canada
Monika Fludernik, University of Freiburg, Germany
Gérard Genette, École des Hautes Études, France
Paul Hernadi, University of California, Santa Barbara
Ann Jefferson, Oxford University, UK
Uri Margolin, University of Alberta, Canada
Felix Martínez-Bonati, Columbia University
William Nelles, University of Massachusetts Dartmouth
Thomas G. Pavel, University of Chicago
Gerald Prince, University of Pennsylvania
John Paul Riquelme, Boston University
Donald Ross Jr., University of Minnesota
Marie-Laure Ryan, Independent Scholar, Colorado
Dan Shen, Beijing University, China
Meir Sternberg, Tel-Aviv University, Israel
Robyn R. Warhol, Ohio State University
Rainer Warning, University of Munich, Germany
Virginia Wright Wexman, University of Illinois, Chicago
Editorial Consultants
Thomas M. McCann, Northern Illinois University
John D. Schaeffer, Northern Illinois University
Research Assistant
Justin Ness, Northern Illinois University
Style publishes reviews, review-essays, surveys, interviews, translations, and brief reports on conferences. Major articles typically range from 5,000 to 7,000 words (inclusive of endnotes and works cited); reviews are typically 1,500 to 2,000 words (again, inclusive of endnotes and works cited).
Authors submitting to Style must send all manuscripts electronically, including a 100-word abstract and (optionally) two hard copies of the manuscript, following MLA guidelines for style and documentation. Author's name should only appear on the title page of article. Submissions must not be under consideration for any other publication. After acceptance, authors should be prepared to send a final electronic copy in Word or RTF format. Authors must secure permissions for copyrighted illustrations. Articles cannot be previously published nor can they be posted online for at least twelve months after publication. The publisher and editors of Style assume that any authors publishing their work in this journal have agreed and will so stipulate if asked that all research for this essay — if regarding human subjects — has been properly assessed at their respective Universities/Institutes etc. and that the assessment responsibility lies with the researcher. Please include all that are available: mail, FAX, and e-mail addresses. Style usually reports on submissions within ninety days.
Manuscripts and correspondence should be addressed to the editor, Style, Department of English, Northern Illinois University, DeKalb, IL 60115-2863 (telephone 815-753-6618: FAX: 815-753-0606; email: . Inquiries about book reviews and books for review should be sent to the editor.
Submissions should be accompanied by an Abstract of up to 150 words. Abstract Guidelines may be found here.
Institutional Print & Online - $208.00
Institutional Print or Online - $149.00
Institutional Single Issue - $41.00
Individual Print & Online - $72.00
Individual Print or Online - $51.00
Individual Single Issue - $15.00
Outside US add Shipping & Handling - $29.00
Arts & Humanities Citation Index
IBZ
MLA International Bibliography
SCOPUS
Mailing List
Subscribe to our mailing list and be notified about new titles, journals and catalogs.