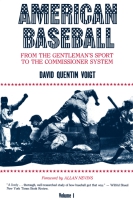 American Baseball. Vol. 1
From Gentleman's Sport to the Commissioner System
Copyright: 1983
Dimensions: 6 x 9
Page Count: 396 pages
Illustrations: 24 b&w illustrations
Hardcover ISBN: 978-0-271-00331-3
Paperback ISBN: 978-0-271-00334-4
Paperback Edition: $35.95
"Better than any other writer since Albert G. Spalding broke ground with America's National Game in 1911, Mr. Voigt has investigated all aspects of the subject; the origins and evolution of the game, the professionalism that grew out of it, and the big business that was reared upon it. He has done a rapid, well proportioned, and critically objective narrative."
How did "America's National Game" evolve from a gentlemen's pastime in the 1850s to a national obsession in the Roaring Twenties? What really happened at Cooperstown in 1839, and why does the "Doubleday legend" persist? How did the commissioner system develop, and what was the impact of the "Black Sox" scandal? These questions and many others are answered in this book, with colorful details about early big league stars such as Mike "King" Kelly and pious Billy Sunday, Charles Comiskey and Ty Cobb, Napoleon Lajoie and "Cy" (Cyclone) Young.
The author explores historically the four major periods of transformation of the game: the Gentlemen's Era, the Golden Age, the Feudal Age, and the incipient Silver Age. Attention is given to the changing face of the major league spectacle, the evolving style of the game, and the changing interests of players, fans, and owners, along with influential innovators and their innovations. There are a number of surprises in the book. For instance, several black players made the big leagues in the 1880s, only to be driven out by a rising tide of Jim Crowism. For three generations black players were to be confined to their own clubs and leagues.
American baseball history reflects the nation's economic and social history, as author Voigt graphically demonstrates. On the fans' side, mass attendance at ball games reflects the rise of cities and the dilution of a work ethic with pursuit of leisure; on the owners' and players' side, organized baseball reflects the developing tension between big business and skilled employees. The result—despite ups and downs—is a typical American success story.
Other Ways to Acquire
Buy from Amazon.com

Buy from an Independent Bookstore
Buy from Powell's Books
Buy from Barnes and Noble.com
Get a License to Reuse
Find in a Library
Join
Sign up for e-mail notifications about new books and catalogs!
Related Subjects