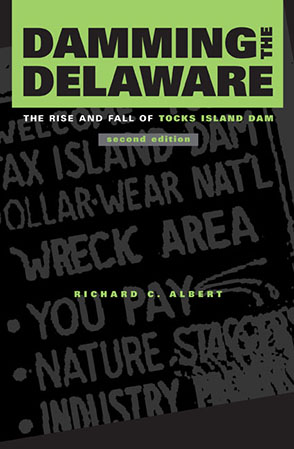 Damming the Delaware
The Rise and Fall of Tocks Island Dam
Richard C. Albert
BUY
Damming the Delaware
The Rise and Fall of Tocks Island Dam
Richard C. Albert
"The author . . . has succeeded in his desire to maintain an unbiased approach, and the book is written so well that it is difficult to fault it."
Description

Reviews

Bio

Table of Contents

Subjects
First published in 1987 and named a Choice Outstanding Academic Book the following year,
Damming the Delaware
is the definitive study of two hundred years of water management history along the Delaware River. The history of the Tocks Island Dam Project is traced from an early 1783 anti-dam treaty, through the highly emotional environmental controversy in the 1970s, to the historic Good Faith agreement of the 1980s. The story involves the water politics of four states, two major U.S. cities, and the federal government, plus the influence of the environmental movement over major public works projects.
In this second edition, the author updates the Tocks Island/Delaware River story to 2005. A major shift in the underlying philosophies of Delaware River management during the intervening years is described along with various successes and failures in water management. A Foreword to the second edition is written by Maya van Rossum, the Delaware Riverkeeper and Executive Director of the Delaware Riverkeeper Network, a nonprofit environmental advocacy organization that has both successfully fought dam projects and removed existing dams.
"The author . . . has succeeded in his desire to maintain an unbiased approach, and the book is written so well that it is difficult to fault it."
Richard C. Albert is Restoration Director/Scientist with the Delaware Riverkeeper Network. He previously worked for the Delaware River Basin Commission and other agencies. His numerous publications include Along the Delaware River (2002).
CONTENTS
Foreword
Preface and Acknowledgments
Delaware River Basin Facts
Chronology: Evolution of a Delaware River Dam
List of Abbreviations and Acronyms
1. Introduction
2. Enter Man
3. A Water Supply for Millions
4. Birth of a Main-Stem Dam Project
5. The Sage is Reset
6. The Pieces Are Put Together
7. In All Its Glory
8. A Central Park for Megalopolis
9. Sunfish Pond: Prelude to Controversy
10. Tocks Island Logjam
11. Pox on Tocks
12. Troubles in the Minisink
13. Decisions Are Made
14. A Matter of Good Faith
Epilogue
Notes
Sources
Index
Mailing List
Subscribe to our mailing list and be notified about new titles, journals and catalogs.