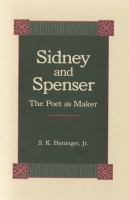 Sidney and Spenser
Copyright: 1990
Dimensions: 6 x 9
Page Count: 660 pages
Illustrations: 32 b&w illustrations
Hardcover ISBN: 978-0-271-00666-6
---
Sidney and Spenser reached their artistic maturity as the 1580s began. While they responded in individualistic ways to the cultural formation then prevailing, they set the course of literature in England for centuries to come. With these poets, allegory transmutes to fiction.
Heninger's study is concerned centrally with this transformation, and with the historical circumstances that encouraged and sustained it. For English writers this change was largely effected by the adoption of Aristotelian imitation as the quiddity of the poetical art. As its distinctive feature, poetry no longer reflects heavenly beauty or echoes cosmic harmony—it isn't rhyming and versing that make a poet, Sidney says. Instead, literature becomes a depictive art, a narrative with semantic content.
The new poetry created "speaking pictures," and it acquired this ability to address simultaneously both ear and eye by virtue of its medium. Language allows poetry to display aural and visual properties, allying it with music on the one hand and with painting on the other. So this study investigates Renaissance notions of how language engages a reader, with both musical and painterly effects.
By assimilating the principles of Aristotelian mimesis, Sidney devises a poetics that assigns meaning to the verbal system itself. Writing is making.
Other Ways to Acquire
Buy from Amazon.com

Buy from an Independent Bookstore
Buy from Powell's Books
Buy from Barnes and Noble.com
Get a License to Reuse
Find in a Library
Join
Sign up for e-mail notifications about new books and catalogs!
Related Subjects