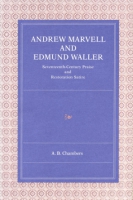 Andrew Marvell and Edmund Waller
Seventeenth-Century Praise and Restoration Satire
Copyright: 1991
Dimensions: 6 x 9
Page Count: 220 pages
Hardcover ISBN: 978-0-271-00703-8
Paperback ISBN: 978-0-271-02626-8
Paperback Edition: $30.95
---
In 1660, Edmund Waller was an eminent poet whose claims to fame rivaled those of even his most illustrious predecessors, while Andrew Marvell had scarcely any reputation at all. Today, however, that situation is completely reversed. A. B. Chambers's study shows that Waller has been unjustly neglected in recent times and that, together, some of the work of Waller and Marvell bridged the gap between the work of the early seventeenth century and the Restoration. Chambers suggests that Waller and Marvell are mutually illuminating, that their poems have substantial intrinsic interest, and that they opened the door through which Dryden made his entrance to become the dominant literary figure of the Restoration.
Chambers situates important poems by both authors within historical and literary contexts as an aid to elucidating both meaning and poetic achievement, but he also pays close historical attention to details of language, syntax, and metrics that supply meaning. He provides a significant new reading of Marvell's "To His Coy Mistress," while also situating the poem within Marvell's poetic and political careers. He also presents a fuller, more accurate picture of the period by taking into account the conceptual and poetic problems that both authors necessarily confronted and by examining the curiously inverted parallelism of the strategies that they employed in addressing those problems.
Other Ways to Acquire
Buy from Amazon.com

Buy from an Independent Bookstore
Buy from Powell's Books
Buy from Barnes and Noble.com
Get a License to Reuse
Find in a Library
Join
Sign up for e-mail notifications about new books and catalogs!
Related Subjects