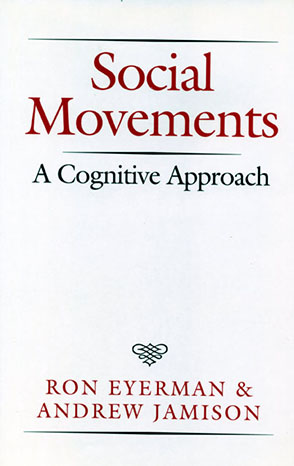 Social Movements
A Cognitive Approach
Ron Eyerman, and Andrew Jamison
BUY
Social Movements
A Cognitive Approach
Ron Eyerman, and Andrew Jamison
"This is a very original approach to the study of the new social movements. The book analyzes these movements in broad social and cultural terms. It puts specific emphasis on the cultural programs of these movements, emphasizing their place in the construction of the cognitive map of contemporary society. This general approach is applied very successfully to the American civil rights movement. This is a very important contribution—highly recommended."
Media

Description

Reviews

Bio

Subjects
1991 Honorable Mention, European Amalfi Prize for Sociology and Social Sciences
This book offers a new approach to the study of social movements. Integrating American and European approaches, Eyerman and Jamison argue that social movements are forms of activity whereby individuals create new kinds of social identities not only for themselves but for the societies of which they form a part. They examine the success and failure of social movements in comparative terms, both between historical periods and political cultures, giving special attention to the American civil rights movement, environmental movements, and recent form of collective protest in Eastern Europe and the Soviet Union. The result is a study which develops major theoretical innovations as well as integrating a wide range of empirical material.
"This is a very original approach to the study of the new social movements. The book analyzes these movements in broad social and cultural terms. It puts specific emphasis on the cultural programs of these movements, emphasizing their place in the construction of the cognitive map of contemporary society. This general approach is applied very successfully to the American civil rights movement. This is a very important contribution—highly recommended."
"In their lucid and accessible new work, Eyerman and Jamison bring 'meaning' back into the study of social movements, where it belongs but has been missing for far too long. They do so via the concepts of 'cognitive practice' and 'movement intellectual,' concepts which should take a central position, not only in the social movement literature but in the general study of social change. An important contribution that deserves to be widely read."
"This is the best account of the phenomenon of social movements available."
Ron Eyerman is Senior Lecturer in Sociology at the University of Lund, Sweden.
Andrew Jamison is Senior Lecturer at the Research Policy Institute at the University of Lund, Sweden.