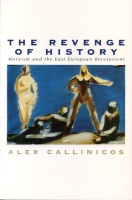 The Revenge of History
Marxism and the East European Revolutions
Copyright: 1991
Dimensions: 6 x 9
Page Count: 170 pages
Hardcover ISBN: 978-0-271-00767-0
Paperback ISBN: 978-0-271-00768-7
Co-publisher: Polity Press
Winner of the 1992 Distinguished Scholarship Book Award from the Marxist Sociology Section of the American Sociological Association
The Revenge of History is a frontal assault on the widely accepted idea that the East European revolutions of 1989 mark the death of socialism.
Alex Callinicos seeks to vindicate the classical Marxist tradition by arguing that socialism in this tradition can only come from below, through the self-activity of the working class. Stalinism from this standpoint was a counterrevolution, erecting at the end of the 1920s a state capitalist regime on the ruins of the radically democratic socialism briefly achieved in October 1917. Callinicos argues that the collapse of Stalinism at the end of the 1980s is one aspect of a worldwide transition from nationally organized to globally integrated capitalism. The result is likely to be greater economic and political instability. Against this background socialism—in Marx's sense—is all the more necessary. Callinicos contends that Marx's vision of a classless communist society would be both practically feasible and profoundly democratic.
He concludes that the collapse of Stalinism should be less the moment to abandon socialism than to resume unfinished business.
Other Ways to Acquire
Buy from Amazon.com

Buy from an Independent Bookstore
Buy from Powell's Books
Buy from Barnes and Noble.com
Get a License to Reuse
Find in a Library
Join
Sign up for e-mail notifications about new books and catalogs!
Related Subjects