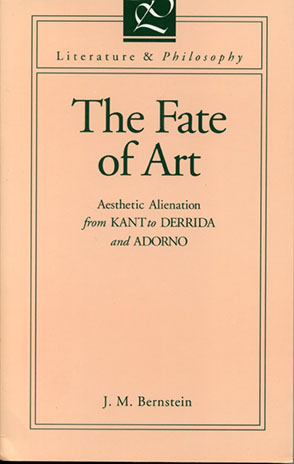 The Fate of Art
Aesthetic Alienation from Kant to Derrida and Adorno
J. M. Bernstein
LEARN MORE
The Fate of Art
Aesthetic Alienation from Kant to Derrida and Adorno
J. M. Bernstein
"Bernstein's rich and provocative study examines the essentially modern attempt to distinguish a unique or autonomous realm of the aesthetic, and presents an ambitious argument designed to undermine that post-Kantian insistence on a categorical distinction among the beautiful, the true, and the good. In doing so, he offers a thoughtful account of why the fate of art has been so central to those thinkers in the European tradition worried about the implications of the European Enlightenment, and he presents a number of original, critical readings of individual thinkers. This is an important, very interesting book."
Description

Reviews

Bio

Subjects
Aesthetic alienation may be described as the paradoxical relationship whereby art and truth have come to be divorced from one another while nonetheless remaining entwined. J. M. Bernstein not only finds the separation of art and truth problematic, but also contends that we continue to experience art as sensuous and particular, thus complicating and challenging the cultural self-understanding of modernity.
Bernstein focuses on the work of four key philosophers—Kant, Heidegger, Derrida, and Adorno—and provides powerful new interpretations of their views. Bernstein shows how each of the three post-Kantian aesthetics (its concepts of judgment, genius, and the sublime) to construct a philosophical language that can criticize and displace the categorical assumption of modernity. He also examines in detail their responses to questions concerning the relations among art, philosophy, and politics in modern societies.
"Bernstein's rich and provocative study examines the essentially modern attempt to distinguish a unique or autonomous realm of the aesthetic, and presents an ambitious argument designed to undermine that post-Kantian insistence on a categorical distinction among the beautiful, the true, and the good. In doing so, he offers a thoughtful account of why the fate of art has been so central to those thinkers in the European tradition worried about the implications of the European Enlightenment, and he presents a number of original, critical readings of individual thinkers. This is an important, very interesting book."
J. M. Bernstein is University Distinguished Professor in Philosophy at the New School for Social Research. He is the author of The Philosophy of the Novel: Lukacs, Marxism, and the Dialectics of Form (1984).