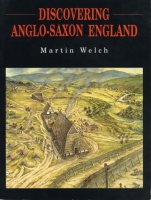 Discovering Anglo-Saxon England
Copyright: 1993
Dimensions: 7.25 x 9.75
Page Count: 144 pages
Illustrations: 9 color/91 b&w illustrations
Paperback ISBN: 978-0-271-00894-3
"A splendid overview of Anglo-Saxon archaeology in England. It covers the principal subjects of medieval archaeology—settlements, cemeteries, manufacturing and trade, and social status—clearly and succinctly. The text is well suited for new readers to the field because the author explains how patterns in the archaeological evidence are interpreted. The book is also ideal for historians who want to learn more about the archaeology of the early medieval period. The author makes frequent reference to the historical evidence and discusses the application of both historical and archaeological sources to particular questions."
Discovering Anglo-Saxon England covers the period from about 400 to 700, from the departure of Roman troops to the triumph of Christianity and the "Age of Bede." It was during this period that waves of migrants—Angles, Saxons, Jutes, and other peoples from northern Germany and southern Scandinavia—created England (the "land of the Angles") from the vestiges of late Roman Britain.
This period is often considered a "dark age" because of the dearth of written records. Accounts from later centuries (such as Beowulf and the writings of the Venerable Bede) provide some insight, but archaeology is the source of most of our knowledge. Excavations, such as those of dwellings at West Stow and the Yeavering "palace," offer us a window into what Martin Welch calls Anglo-Saxon "communities in life." Likewise, the cemeteries of farmstead settlements and the magnificent "royal" ship burial at Sutton Hoo present the equivalent "communities in death."
Written in an accessible style, Discovering Anglo-Saxon England includes one hundred maps, plans, reconstructions, and photographs, making it an excellent introduction to the archaeology of early England. An appendix of places to visit makes it ideally suited to those planning an excursion of their own.
Other Ways to Acquire
Buy from Amazon.com

Buy from an Independent Bookstore
Buy from Powell's Books
Buy from Barnes and Noble.com
Get a License to Reuse
Find in a Library
Join
Sign up for e-mail notifications about new books and catalogs!
Related Subjects