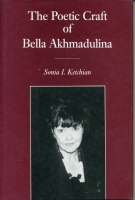 The Poetic Craft of Bella Akhmadulina
Copyright: 1993
Dimensions: 6 x 9
Page Count: 256 pages
Illustrations: 10 b&w illustrations
Hardcover ISBN: 978-0-271-00916-2
"Filled with informal anecdote and bright insight, Sonia Ketchian's survey of Akhmadulina's poetry is a fine and very useful explication of the central work of one of Russia's most important modern poets. Concisely but clearly, the book lays out Akhmadulina's development, her debts and her innovations, and the distinguishing characteristics of her verse and of her basic attitude. Her reading of the poems is close and accurate, expressing an appealing intellectual sensitivity and broad literary sympathy."
"Sonia Ketchian has written a book that is really quite beautiful and does an amazing thing: conveys a sense of what Akhmadulina's poetry is like, its intricacies and feeling tone, to any reader—even the reader who may not know Russian and may have difficulty otherwise gaining a sense of the unusual poetic world of this poet. Ketchian, through a highly sensitive and empathetic reading, has managed to be true to the spirit of the poetry, which makes the work a tribute to Akhmadulina herself, the leading woman poet of Russia today."
Bella Akhmadulina is that rare postmodernist Russian poet whose weighty, original, and honed art is unencumbered by partisanship or politics. Its appreciation understandably transcends the boundaries of nations and time. Sonia Ketchian offers a vigorous yet sensitive analysis of Akhmadulina's poetry through an overview of her poetic voice and of the early poetry followed by an investigation of the insightful thematic grouping of the poems in her most significant collection to date, the remarkable Secret. In gradually unfolding the poetic speaker's secrets of the writing process in the midst of nature, this study consistently makes comparisons with the verse of key poets and also presents a thought-provoking, nuanced excursus through relevant moments in modern Russian poetry.
Other Ways to Acquire
Buy from Amazon.com

Buy from an Independent Bookstore
Buy from Powell's Books
Buy from Barnes and Noble.com
Get a License to Reuse
Find in a Library
Join
Sign up for e-mail notifications about new books and catalogs!
Related Subjects