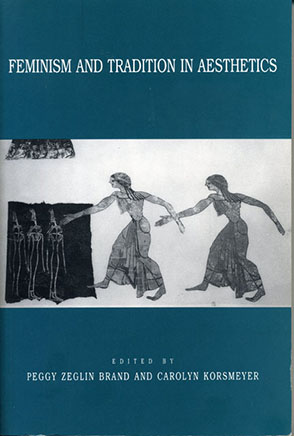 Feminism and Tradition in Aesthetics
Edited by Peggy Z. Brand, and Carolyn Korsmeyer
BUY
Feminism and Tradition in Aesthetics
Edited by Peggy Z. Brand, and Carolyn Korsmeyer
Bio

Table of Contents

Subjects
Peggy Zeglin Brand is Assistant Professor of Philosophy at Indiana University; she has published various essays on philosophy of art and on artworks by women.
Carolyn Korsmeyer is Associate Professor of Philosophy at the State University of New York-Buffalo and is coauthor of Feminist Scholarship: Kindling in the Groves of Academe (1985) and co-editor (with Hilde Hein) of Aesthetics in Feminist Perspective (1993).
Contents
Foreword by Arthur C. Danto
Introduction: Aesthetics and Its Traditions/Peggy Zeglin Brand and Carolyn Korsmeyer
Part I
1. Beautiful and Sublime: "Gender Totemism" in the Constitution of Art/Paul Mattick, Jr.
2. Gendered Concepts and Hume's Standard of Taste/Carolyn Korsmeyer
3. Intensity and Its Audiences: Toward a Feminist Perspective on the Kantian Sublime/Timothy Gould
4. Stages on Kant's Way: Aesthetics, Morality, and the Gendered Sublime/Christine Battersby
Select Bibliography to Part I
Part II
5. Oppressive Texts, Resisting Readers, and the Gendered Spectator: The "New" Aesthetics/Mary Devereaux
6. The Oppositional Gaze: Black Female Spectators/bell hooks
7. A History of Music/Renée Lorraine
Select Bibliography to Part II
Part III
8. "Who is Speaking?" Of Nation, Community, and First-Person Interviews/Trinh T. Minh-ha
9. Interweaving Feminist Frameworks/Elizabeth Ann Dobie
10. Monologues from "Four Intruders Plus Alarm Systems" and "Safe"/Adrian Piper
11. Revising the Aesthetic-Nonaesthetic Distinction: The Aesthetic Value of Activist Art/Peggy Zeglin Brand
Select Bibliography to Part III
Part IV
12. Has Her(oine's) Time Now Come?/Anita Silvers
13. Feminist Art History and De Facto Significance/Susan L. Feagin
14. Leonardo da Vinci and Creative Female Nature/Mary D. Garrard
15. Mothers and Daughters: Ancient and Modern Myths/Ellen Handler Spitz
16. The Image of Women in Film: A Defense of a Paradigm/Noel Carroll
Select Bibliography to Part IV
Part V
17. Analytic Aesthetics and Feminist Aesthetics: Neither/Nor?/Joanne B. Waugh
18. Reconciling Analytic and Feminist Philosophy and Aesthetics/Joseph Margolis
19. Why Feminism Doesn't Need an Aesthetic (And Why It Can't Ignore Aesthetics)/Rita Felski
20. The Role of Feminist Aesthetics in Feminist Theory/Hilde Hein
Select Bibliography to Part V
Contributors
Index