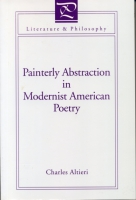 Painterly Abstraction in Modernist American Poetry
The Contemporaneity of Modernism
Copyright: 1995
Dimensions: 6 x 9
Page Count: 538 pages
Illustrations: 10 b&w illustrations
Paperback ISBN: 978-0-271-01419-7
Series Name: Literature and Philosophy
"Painterly Abstraction in Modernist American Poetry is full of valuable insights and analyses. What Altieri offers here is an exhaustive discussion of modernist abstraction, beginning with an analysis of abstractionist (particularly constructivist) aesthetics and practice and the roots of abstraction in the romantic tradition and in Kant, before moving to close readings of several poets. . . . [T]his book is a study rich in insights and an important addition to current debates about modernism."
"Painterly Abstraction in Modernist American Poetry still waits to be recognized as the best recent intervention in literary study's agony about the relation of poetry—indeed of art in general—to social and political liberation. . . . Moving across debates among philosophy, poetry, painting, literary criticism, and politics, Altieri shows that both the conscientious impulses that have innovated literary study for two decades and the culture—or the cult—of postmodernism do not have to belittle art or aesthetics for the sake of promoting liberating social and historical causes."
Painterly Abstraction in Modernist American Poetry concentrates on the challenges posed to poetry by modernist painting: how could the poets adapt to the painters' abilities to recast our understanding of the psyche's needs, powers, and social dependencies, and how could they share the painters' efforts to find alternatives to what seemed the inescapably ideological grounds for all value claims? By stressing the poets' ways of making the syntax of artworks carry semantic force, this orientation generates a much more dynamic, philosophically stimulating sense of modernist poetry than the ones offered by the dominant styles of political critique.
Other Ways to Acquire
Buy from Amazon.com

Buy from an Independent Bookstore
Buy from Powell's Books
Buy from Barnes and Noble.com
Find in a Library
Join
Sign up for e-mail notifications about new books and catalogs!
Related Subjects