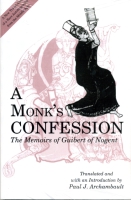 A Monk's Confession
The Memoirs of Guibert of Nogent
Copyright: 1995
Dimensions: 6 x 9
Page Count: 270 pages
Illustrations: 9 b&w illustrations/1 map
Hardcover ISBN: 978-0-271-01481-4
Paperback ISBN: 978-0-271-01482-1
Paperback Edition: $32.95
"Paul J. Archambault pays generous tribute to the work of his forerunners, but argues convincingly that there is room for a new translation and introduction. [The book] is aimed at students and cultivated readers who are not familiar with French, and seeks to provide a lively and readable translation. In this it has succeeded. . . . Guibert's book is important, not just for the insight into monastic life given by a learned man who was also an accomplished stylist. The section based on his own experience as abbot of Nogent, in touch with ecclesiastical and secular leaders, is one of the most important sources for the history of the revolt of the 'commune' of Laon and the murder of the bishop in 1112."
"Guibert's memoirs offer a lively picture of a local slice of medieval French society and the ecclesial world of the Middle Ages. . . . [I]t immerses its readers in the everyday world and faith of people who lived far away from the intellectual and cultural centers of medieval times. Paul Archambault provides a very accessible modern English translation and carefully annotated edition of Guibert's Monodiae. The book will be a welcome addition to both undergraduate and graduate level courses on the Middle Ages and will serve as a fine contextualization of more theological medieval texts, such as Anselm of Canterbury's Cur Deus Homo? It will be equally illuminating to lay and clergy who wish to explore the Middle Ages or spiritual autobiographies."
"Guibert of Nogent is a major writer who is a favorite of medieval historians. He furnishes a good deal of autobiographical information, somewhat of a rarity for the period, and he gives many details about the commune in France at the beginning of the twelfth century. Paul Archambault has given us an accurate and polished translation, and his introduction places Guibert in the Augustinian tradition where he rightly belongs. An outstanding contribution."
A Monk's Confession is the first completely new English translation of Guibert of Nogent's remarkable memoirs in over seventy years. Written around the year 1115, they offer an unparalleled look at the life of a monk in the Middle Ages. Guibert, who lived his entire life in northern France, called these memoirs his book of monodiae, or solitary songs. Many scholars consider them the first Latin autobiography in the West after Augustine's Confessions.
Readers will be stirred and surprised by Guibert's intense preoccupation with the sinfulness of his soul, his visions of demons and necromancy, and his frank struggle to come to terms with his sexuality. But Guibert is also a valuable witness to his age. In addition to his personal history, his memoirs give a brief chronicle of the abbey of Nogent—where he served as abbot for some twenty years—and a vivid account of the bloody uprising of the Laon Commune in 1112. His observations give precious insight into education, monastic life, and the beginnings of the great medieval towns.
Paul J. Archambault's translation successfully renders Guibert's Latin—at times stylish, at times rustic—into lively, modern English. He consulted Edmond-René Labande's authoritative 1981 Latin edition with French translation. He provides a complete introduction and annotation that help situate Guibert within the history and literature of the Middle Ages while permitting readers to judge for themselves how to interpret this fascinating voice from the past.
Other Ways to Acquire
Buy from Amazon.com

Buy from an Independent Bookstore
Buy from Powell's Books
Buy from Barnes and Noble.com
Get a License to Reuse
Find in a Library
Join
Sign up for e-mail notifications about new books and catalogs!
Related Subjects