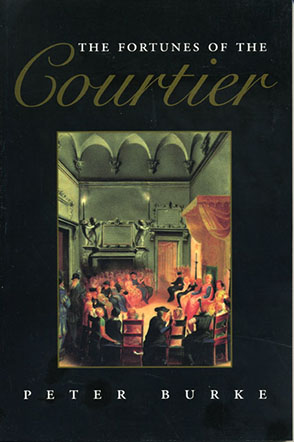 The Fortunes of the Courtier
The European Reception of Castiglione's Cortegiano
Peter Burke
BUY
The Fortunes of the Courtier
The European Reception of Castiglione's Cortegiano
Peter Burke
"The Fortunes of the Courtier is an important contribution to intellectual history and to the history of the book. It demonstrates how bibliography, textual criticism, and library history can illuminate the mentality of an age."
Description

Reviews

Bio

Subjects
Castiglione's
Cortegiano
, or the
Courtier
, is one of the best-known texts of the Italian Renaissance. When it first appeared in 1528, the
Courtier
was widely read as a guide to contemporary conduct. Its popularity led to its publication in six languages in twenty different European centers in the sixteenth century alone. While the text itself has been studied very carefully in recent years as the embodiment of the spirit of the High Renaissance, its multitude of readers, spread over the world, has received much less attention. In this engaging study Peter Burke explores how readers over the years have responded to the
Courtier
.
Because it was read so widely in Europe, the Courtier affords Burke an ideal test case for the diffusion and reception of ideas. From Poland and Hungary to England, Portugal, and even the New World, he takes us on a fascinating tour of the courts, libraries, and reading rooms of Europe in search of Castiglione's idea of the perfect courtier. He shows how changing responses to the Courtier, both positive and negative, reveal changing social values and how regional variations in its reception reflect the emerging cultural map of early modern Europe. His evidence includes printing history, translations, marginalia, and records of sale and possession. He concludes with a discussion of the later fortune of the Courtier, including its role in the "civilizing process" and its curious appeal to writers as different as Samuel Johnson and W. B. Yeats.
Informed by Burke's considerable knowledge of printing and publishing history, this book contributes to our growing understanding of the history of the book and to our knowledge of the Renaissance and its reception.
"The Fortunes of the Courtier is an important contribution to intellectual history and to the history of the book. It demonstrates how bibliography, textual criticism, and library history can illuminate the mentality of an age."
Peter Burke is Reader in Cultural History at Emmanuel College, Cambridge. His numerous books include Popular Culture in Early Modern Europe (1978) and, more recently, The Fabrication of Louis XIV (1992). He is also the editor of New Perspectives on Historical Writing (Penn State, 1992).
Also of Interest
Mailing List
Subscribe to our mailing list and be notified about new titles, journals and catalogs.