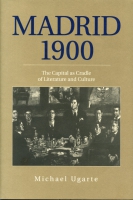 Madrid 1900
The Capital as Cradle of Literature and Culture
---
The center of Spanish national identity, turn-of-the-century Madrid offered a haven for young writers to try out their ideas and launch their careers. Madrid 1900 assesses the cultural history of the city and its relation to the cultural history of Spain through examining the literature written in and on Madrid at this time.
Michael Ugarte understands Madrid as a specific urban landscape and political entity that shaped the lives and writings a number of writers. His arrangement, centered on space rather than time, allows him to discuss the canonical writers Pío Baroja, Ramón Maria del Valle-Inclán, and Azorín alongside vanguardist Ramón Gómez de la Serna and an ignored woman writer of the period, Carmen de Burgos. He reads each of these writers as incarnations of specific patterns and images of urban representation, such as sociological reform, women in the city, the linguistic subversion of city objects, Bohemian culture, and the conflict between the country and the city.
Of particular timeliness as we approach a new century, Madrid 1900 gives special consideration to the cultural transition from an old century to a new one and how the recreation of a city—any city—contributes to the formation of consciousness.
Other Ways to Acquire
Buy from Amazon.com

Buy from an Independent Bookstore
Buy from Powell's Books
Buy from Barnes and Noble.com
Get a License to Reuse
Find in a Library
Join
Sign up for e-mail notifications about new books and catalogs!
Related Subjects