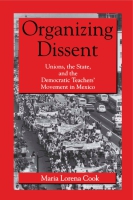 Organizing Dissent
Unions, the State, and the Democratic Teachers' Movement in Mexico
Copyright: 1996
Dimensions: 6 x 9
Page Count: 376 pages
Illustrations: 15 illustrations
Hardcover ISBN: 978-0-271-01560-6
Paperback ISBN: 978-0-271-02590-2
"In this thoughtful examination of the emergence and survival of the democratic teachers' movement in Mexico, Maria Lorena Cook offers a rich case study central to several important debates in the fields of social movements, democratization, and Mexican studies. . . . It is a solid achievement worthy of high praise."
"Organizing Dissent represents a very valuable contribution to an understanding of the particular political factors that allow social movements not only to come into being, but also to survive in the context of authoritarian regimes. . . A timely contribution to the building of a better understanding of the conditions under which the democratic experience fostered through participation in social movements might be a tool for change in the hands of those so far consistently marginalized from power."
"Cook's superb book will be of wide interest to students of Mexican politics as well as social movement theory."
"Cook's richly documented study of the Mexican teachers' movement proposes answers to two key questions: how do social movements emerge in repressive contexts, and what factors enable them to survive in such an environment? Her book will be a milestone in linking social movement theory with the study of political change in non-liberal settings like Mexico."
Organizing Dissent examines the democratic movement that emerged in the 1970s and 1980s within Mexico's National Union of Education Workers, the largest union in Latin America. The size, perseverance, and success the movement stood out in a country whose governing regime was renowned for its ability to co-opt, control, and repress dissent.
Maria Lorena Cook analyzes the development of the teachers' movement from its origins in the 1970s through the economic crisis 0f the 1980s and into the early 1990s under the Salinas administration. She explores the evolving relationship among the union leadership, the state, and rank-and-file teachers, looks closely at organization dynamics and competing strategies within the movement, and compares the successes and failures of six regional contingents of the teachers' movement located in southern and central Mexico.
Contents
List of Tables and Diagrams
List of Illustrations
Acknowledgments
Acronyms
1. Introduction
2. Social Movements in Authoritarian Environments: A Political Process Approach
3. Conflict and Alliance in State-Union Relations
4. Emergence of the National Teachers' Movement: A Regional Comparison
5. Oaxaca and Chiapas: Dilemmas of Legality
6. Sustaining the Movement: Democracy as Survival Strategy
7. Resurgence of National Mobilization
8. Conclusion
Appendix A: SNTE Leaders, Education Ministers, and Interior Ministers, 1976–1994
Appendix B: Chronology of the Democratic Teachers' Movement
Bibliography
Index
Other Ways to Acquire
Buy from Amazon.com

Buy from an Independent Bookstore
Buy from Powell's Books
Buy from Barnes and Noble.com
Get a License to Reuse
Find in a Library
Get the
Google Play Edition
Join
Sign up for e-mail notifications about new books and catalogs!
Related Subjects
This book is a part of the Association of American University Presses'
Books for Understanding: Mexico
book list, created to help all of us better understand the world we live in.
Knowledge, Not just information