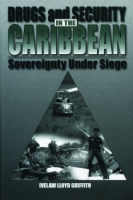 Drugs and Security in the Caribbean
Copyright: 1997
Dimensions: 6 x 9
Page Count: 316 pages
Illustrations: 7 illustrations
Hardcover ISBN: 978-0-271-01718-1
Paperback ISBN: 978-0-271-01719-8
"This work, which is intelligently crafted from significant amounts of original research, locates the drug issue at the nexus of national and international political economy. Its appeal is far reaching, and it should be of interest to students of Latin American and Caribbean studies, criminology, international relations, security studies, and general political science."
"Griffith's is a bold, comprehensive effort. Utilizing a 'geonarcotics' framework, which is ideal for the task at hand, he sets out to cover the entire Caribbean. Obviously, he falls short. But in the process he may have produced one of the best works yet on the multiple security implications of drug trafficking for small, dependent states."
"This book is the first extensive study of illegal drugs in the Caribbean. . . . The timely, comprehensive nature of this book should appeal to a general reading audience, while its systematic analysis of the major issues should prove useful to college students and professionals."
"This is the best regional treatment of the narcotics plague yet written."
"A good and comprehensive introductory book to some of the most critical issues on the transnational features of the drug problem."
"This book defines the 'state of the art' in the study of drugs and security issues in the Caribbean. Arms, money, corruption, crime, logistics—it is all here. Griffith is both comprehensive and clear in his analysis and description of this shared international catastrophe in our times."
Drugs and Security in the Caribbean is a comprehensive study of the drug dilemma in the Caribbean that reveals the severity of the threat illegal drug trafficking poses to the small countries of that region.
The illegal drug traffic in the Caribbean is a persistent problem for law enforcement in the United States, but for small countries in that region it threatens their very existence. The increase in the production and flow of drugs undermines the political stability and economic development because it leads to crime, corruption, and arms trafficking and affects tourism. And although all these countries, except Cuba, are democracies, the need to commit military and paramilitary forces in the war against drugs can seriously undermine democratic governance in those nations.
Ivelaw Griffith has undertaken the first extensive study of illegal drugs in the Caribbean by examining the nature and scope of drug operations, probing the security implications of those operations and the problems they cause, and assessing countermeasures for dealing with drug traffic and resulting problems. By disclosing the various elements of the drugs-security matrix, Griffith argues that the sovereignty of Caribbean countries is under siege, not only from drug operators but also from other states, owing to the transnational nature of drug trafficking and the inability of most small countries to cope with it. Drugs and Security in the Caribbean makes it clear that there is no simple solution to the drug threat. As long the demand for drugs persists in the United States and Europe, drug trafficking in the Caribbean will be nearly impossible to control.
Included in the book are two appendixes: the first is the 1996 anti-drugs treaty between the U.S. and Trinidad and Tobago, a model for agreements signed with other countries; the second is a Caribbean Counternarcotics "Who's Who."
Other Ways to Acquire
Buy from Amazon.com

Buy from an Independent Bookstore
Buy from Powell's Books
Buy from Barnes and Noble.com
Get a License to Reuse
Find in a Library
Get the
Google Play Edition
Join
Sign up for e-mail notifications about new books and catalogs!
Related Subjects
Also of Interest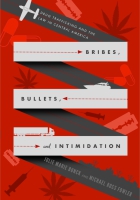 Drug Trafficking and the Law in Central America
This book is a part of the Association of American University Presses'
Books for Understanding: Cuba
book list, created to help all of us better understand the world we live in.
Knowledge, Not just information