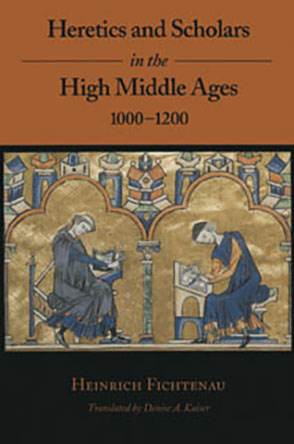 Heretics and Scholars in the High Middle Ages, 1000–1200
Heinrich Fichtenau, and Translator Denise A. Kaiser
BUY
Heretics and Scholars in the High Middle Ages, 1000–1200
Heinrich Fichtenau, and Translator Denise A. Kaiser
"A book that should be read by all those interested in heresy as well as medieval theology."
Media

Description

Reviews

Bio

Subjects
Winner of the 1999 Ungar German Translation Award from the American Translators Association for Denise A. Kaiser's Outstanding Translation
The struggle over fundamental issues erupted with great fury in the eleventh and twelfth centuries. In this book preeminent medievalist Heinrich Fichtenau turns his attention to a new attitude that emerged in Western Europe around the year 1000. This new attitude was exhibited both in the rise of heresy in the general population and in the self-confident rationality of the nascent schools. With his characteristic learning and insight, Fichtenau shows how these two separate intellectual phenomena contributed to a medieval world that was never quite as uniform as might appear from our modern perspective.
"A book that should be read by all those interested in heresy as well as medieval theology."
"Fichtenau has undertaken to write an extended essay on nonconformity in the twelfth century, and he has found it located in two primary notional regions: in popular heresy and in the arrogant rationality of the schools. . . [The book's] parts . . . are formidable, and any scholar will find stimulation in an essay written in a style both informative and provocative. . . . The result is an analysis of the twelfth century as fruitful and interesting as any of the much-touted medievalist products of the French school so much more readily translated into English than German works these days."
Heinrich Fichtenau was president of the Institute for Austrian Historical Research at the University of Vienna from 1962 until his retirement in 1984. Two of his previous books have been translated into English: The Carolingian Empire: The Age of Charlemagne (1956) and Living in the Tenth Century: Mentalities and Social Orders (1991).