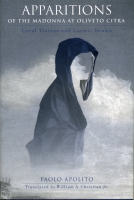 Apparitions of the Madonna at Oliveto Citra
Local Visions and Cosmic Drama
Copyright: 1998
Dimensions: 6 x 9
Page Count: 288 pages
Hardcover ISBN: 978-0-271-01795-2
"This is an excellent study: sympathetic, thoughtful and subtle."
Societies in Western Europe undergo periods of spiritual excitement in which people are more open to signs from heaven or elsewhere, and lulls during which those who claim direct messages from the divine are ignored, ridiculed, or persecuted. Since the late 1960s, Catholic Europe has been in the throes of a kind of re-enchantment, with its immediate model the visions at Medjugorje and its background the intensive promotion of the visions of La Salette, Lourdes, and Fatima. Paolo Apolito had the good fortune to be present virtually at the start of public visions in 1985 not far from his home in Salerno. He observed how the visions gained credence as apparitions and followed how the town and its church sorted out the many apparition messages and dealt with the pilgrims who arrived from throughout southern Italy.
First published in Italy in 1993, this book describes the cult that developed at Oliveto Citra around the ongoing visions, the seers and messages that became dominant, and the interpreters who connected the visions to a cosmic struggle of good and evil and the events at the end of time. It shows under what conditions people who claimed to be seers gained access to the public and to the media, what local elites intervened to filter this process, what pilgrims contributed to the visions, and how the content of the visions converged on the great themes of Marian apocalyptics.
Other Ways to Acquire
Buy from Amazon.com

Buy from an Independent Bookstore
Buy from Powell's Books
Buy from Barnes and Noble.com
Get a License to Reuse
Find in a Library
Join
Sign up for e-mail notifications about new books and catalogs!
Related Subjects