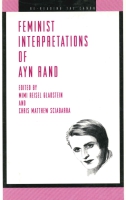 Feminist Interpretations of Ayn Rand
Copyright: 1999
Dimensions: 6 x 9
Page Count: 480 pages
Hardcover ISBN: 978-0-271-01830-0
Series Name: Re-Reading the Canon
"Too often, Rand is either revered as a prophet or dismissed as a crank. Feminist Interpretations of Ayn Rand approaches her as a writer and thinker of profound insights and equally profound contradictions, who offered an important and inspiring but flawed and limited vision of life. . . . Such a serious approach can ultimately end Rand's intellectual marginalization. This volume takes a major step in that direction. In the process, it addresses issues of sexual equality and difference that are more relevant than ever today."
This landmark anthology is the first to engage critically the writings of Ayn Rand from feminist perspectives. The interdisciplinary feminist strategies of re-reading Rand range from the lightness of camp to the darkness of de Sade, from postandrogyny to poststructuralism. A highly charged dialogue on Rand's legacy provides the forum for a reexamination of feminism and its relationship to egoism, individualism, and capitalism. Rand's place in contemporary feminism is assessed through comparisons with other twentieth-century feminists, such as de Beauvoir, Wolf, Paglia, Eisler, and Gilligan. What results is as provocative in its implications for Rand's system as it is for feminism.
Other Ways to Acquire
Buy from Amazon.com

Buy from an Independent Bookstore
Buy from Powell's Books
Buy from Barnes and Noble.com
Get a License to Reuse
Find in a Library
Get the
Google Play Edition
Join
Sign up for e-mail notifications about new books and catalogs!
Related Subjects
Also of Interest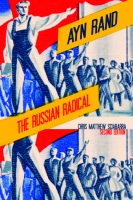 The Russian Radical