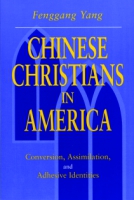 Chinese Christians in America
Conversion, Assimilation, and Adhesive Identities
Copyright: 1999
Dimensions: 6 x 9
Page Count: 248 pages
Illustrations: 4 illustrations
Hardcover ISBN: 978-0-271-01916-1
Paperback ISBN: 978-0-271-01917-8
"Yang's contribution documents how Christianity in general and Chinese churches in particular have integrally influenced the identity formation of Chinese immigrants. Furthermore, Yang's book suggests that Chinese evangelical Christians (as well as other recent immigrants) are the ones responsible for sustaining America's religiosity. Scholars interested in tapping into this religious pulse will find Yang's book not just useful but indispensable.

Yang's Chinese Christians in America marks an important break from traditional congregational studies of Christian churches in America. He explores how religion influences and shaped the multiple identities of Chinese immigrants."
"In the final analysis . . . this study is a welcome contribution to the discourse of religion in modern, cosmopolitan societies, which may well come to be regarded as a standard work in its field."
Christianity has become the most practiced religion among the Chinese in America, but very little solid research exists on Chinese Christians and their churches. This book is the first to explore the subject from the inside, revealing how Chinese Christians construct and reconstruct their identity—as Christians, Americans, and Chinese—in local congregations amid the radical pluralism of the late twentieth century.
Today there are more than one thousand Chinese churches in the United States, most of them Protestant evangelical congregations, bringing together diasporic Chinese from diverse origins—Taiwan, Hong Kong, mainland China, and Southeast Asian countries. Fenggang Yang finds that despite the many tensions and conflicts that exist within these congregations, most individuals find ways to creatively integrate their evangelical Christian beliefs with traditional Chinese (most Confucian) values. The church becomes a place where they can selectively assimilate into American society while simultaneously preserving Chinese values and culture.
Yang brings to this study unique experience as both participant and observer. Born in mainland China, he is a sociologist who converted to Christianity after coming to the United States. The heart of this book is an ethnographic study of a representative Chinese church, located in Washington, D. C., where he became a member. Throughout the book, Yang draws upon interviews with members of this congregation while making comparisons with other churches throughout the United States. Chinese Christians in America is an important addition to the literature on the experience of "new" immigrant communities.
Other Ways to Acquire
Buy from Amazon.com

Buy from an Independent Bookstore
Buy from Powell's Books
Buy from Barnes and Noble.com
Get a License to Reuse
Find in a Library
Get the
Google Play Edition
Join
Sign up for e-mail notifications about new books and catalogs!
Related Subjects
This book is a part of the Association of American University Presses'
Books for Understanding: Immigration
book list, created to help all of us better understand the world we live in.
Knowledge, Not just information