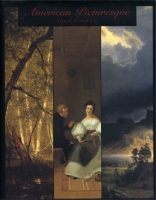 American Picturesque
Copyright: 2000
Dimensions: 8.5 x 11
Page Count: 392 pages
Illustrations: 25 color/129 b&w illustrations
Hardcover ISBN: 978-0-271-01920-8
"A remarkable and masterful contribution, this book is an enlightening explication of Conron's offer of the picturesque as the definitive aesthetic of the mid-19th-century US."
"As the histories of emotions and senses become important areas of historical inquiry, Conron's book demonstrates the value of paying closer attention to aesthetic consciousness as primary sites of feeling and essential frames of social knowledge. American Picturesque is a wonderfully rich and suggestive book.

He offers both a deft synthesis of the work of literary critics and historians of art and architecture and an inspiringly original and satisfying interpretation of aesthetic consciousness."
"Conron is as capable in analyzing landscape painting, genre painting, urban planning, and landscape design as in discussing literary texts. The twenty-five color plates and 131 figures are essential features of a book in which verbal and pictorial vocabularies are fully integrated. All the illustrations are handsomely and purposefully presented and enhance the value of the volume for students of the picturesque in all its varied forms. Consistently sensitive to 'the eternal picture which nature paints' (to borrow a phrase from Emerson), Conron has produced a book ambitious in conception and scope as well as authoritative in execution."
"Beautifully illustrated, this ambitious project to understand the nineteenth-century American 'picturesque' is a valuable read. A book of wide appeal to students in Cultural Studies, Art History, American Literature, and American Studies at the undergraduate and graduate level."
American picturesque, as defined by John Conron, is America's first aesthetic, one that permeated all aspects of American culture in the nineteenth century. Twenty years in the making, this book presents the picturesque aesthetic as the common thread holding together American literature, art, and landscape architecture. Focusing on the peak years of the aesthetic, 1830–1880, Conron describes how the picturesque transformed not only American perception but also American space.
American Picturesque demonstrates the sweeping breadth of the concept and the specific aesthetic of the picturesque in many aspects of nineteenth-century American culture. Conron traces the picturesque through landscape, topographical, and genre painting; rural cottages and villas in styles ranging from Gothic and Italian Revival to Queen Anne; a landscape garden (Montgomery Place); a rural cemetery (Mount Auburn); a suburb (Llewellyn Park); Central Park and urban architecture; and prose narratives by James Fenimore Cooper, Henry David Thoreau, Nathaniel Hawthorne, Frederick Douglass, Harriet Wilson, Harriet Beecher Stowe, Elizabeth Stuart Phelps, and others.
Ultimately, Conron ably defines the multifaceted structure of the picturesque and establishes its influence on nineteenth-century writers and artists in various media. He also shows how the picturesque aesthetic influenced people from all walks of life in the way they perceived a painting, a woodland scene, a public park, a house, or even one another. This book will appeal to anyone interested in nineteenth-century American art, literature, or culture in general.
Other Ways to Acquire
Buy from Amazon.com

Buy from an Independent Bookstore
Buy from Powell's Books
Buy from Barnes and Noble.com
Get a License to Reuse
Find in a Library
Join
Sign up for e-mail notifications about new books and catalogs!
Related Subjects