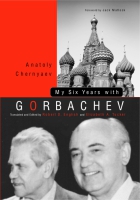 My Six Years with Gorbachev
Copyright: 2000
Dimensions: 6 x 9
Page Count: 464 pages
Hardcover ISBN: 978-0-271-02029-7
Paperback ISBN: 978-0-271-05811-5
Paperback Edition: $30.95
"Mikhail Gorbachev's historic leadership, which transformed Russia and international relations, cannot be fully understood without the diary-memoir of Anatoly Chernyaev, one of his most important advisers and closest confidants. Splendidly translated, edited, and introduced by Robert English and Elizabeth Tucker, his Six Years with Gorbachev is now available to everyone who wants to comprehend those final momentous events of the twentieth century."
"Of the many memoirs produced by Gorbachev and those around him, this one rings truest and says the most—partly because Chernyaev quotes at length from his original notes and internal memoranda, and partly because the author's integrity and frankness emerge from the text itself. Still deeply loyal to Gorbachev, he nonetheless manages to stand outside their relationship and judge him candidly, with stunning insight. Apart from the invaluable detail that the author adds on key events, his account seems to capture Gorbachev as a leader better than any other."
"Chernyaev's evidence on the coup is only one important element in what may be fairly regarded as the most significant and illuminating memoirs to emerge from the Gorbachev administration. . . . He provides fascinating insights on the internal struggle going on within the Soviet leadership, including the advisors, among whom he was very much on the liberal wing."
"My Six years with Gorbachev combines sections of his diary and other notes that he took at the time with later memories and retroactive reflections. It has been brilliantly translated and edited by Robert English and Elizabeth Tucker who provide footnotes to identify the characters and explain the more obscure events. A 'new thinker' long before the term was invented, Chernyaev provides a first-rate insider's account of the Gorbachev years."
Drawing on his own diary as well as secret documents and transcripts of high-level meetings, Anatoly Chernyaev recounts the drama that swept the Soviet Union between 1985 and 1991. As Gorbachev's chief foreign policy aide for most of that period, he played a central role in efforts to halt the arms race, discard a confrontational ideology, and open his country to the world. And as Gorbachev's confidant on many domestic issues as well, Chernyaev offers rare insights into the struggle over glasnost, the growth of separatism, and the rise of Boris Yeltsin. While admiring of perestroika's founder, Chernyaev is frank in faulting Gorbachev for his hesitancy in economic reforms, for his delay in decentralizing Union-republic ties, and above all for his misplaced faith in the reformability of the Communist Party. Altogether this book is essential reading for those interested in the Cold War's end, the USSR's collapse, and especially the role played by ideas, ambitions, and key personalities in these momentous events.
Other Ways to Acquire
Buy from Amazon.com

Buy from an Independent Bookstore
Buy from Powell's Books
Buy from Barnes and Noble.com
Find in a Library
Join
Sign up for e-mail notifications about new books and catalogs!
Related Subjects