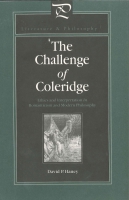 The Challenge of Coleridge
Ethics and Interpretation in Romanticism and Modern Philosophy
Copyright: 2001
Dimensions: 6 x 9
Page Count: 328 pages
Hardcover ISBN: 978-0-271-02051-8
Paperback ISBN: 978-0-271-02786-9
Series Name: Literature and Philosophy
Paperback Edition: $30.95
"For those who are already well versed in Romanticism and contemporart theory, the book will be a welcome addition to ongoing discussions, for it continues to develop, even while refining Haney's project of exploring the relationship between hermeneutics and ethics initiated in William Wordsworth and the Hermeneutics of Incarnation (1993). For those unfamiliar with such matters, it situates Coleridge within a fresh and provocative new set of contexts and raises some important questions concerning the relationship between ethics and interpretation, as well as rethinking the nature of imagination and its susceptibility to critique. A thoughtful and often illuminating study, the book brings Coleridge's writings into a fruitful dialogue with the work of a number of contemporart thinkers, including Hans-George Gadamer, Emmanuel Levinas, Martha Nussbaum, Paul Ricoeur, Charles Taylor, and Bernard Williams."
"[Haney] is thoroughly conversant with Coleridge and Coleridge scholarship, as well as the relevant work of Gadamer, Ricoeur, and Levinas. Fluent in modern Continental philosophy, he is also familiar with the Anglo-American analytical discussion of ethics as well, an all too rare combination. If the conversation is at times challenging, it rewards the effort"
"This impressive study of the ethical aspects of literacy criticism and interpretation is unusual in several respects: firstly in the subtlety and vigor with which it pursues the diverse ramifications of this important but neglected topic; secondly in the detailed connections it makes between Romantic theories and those of modern philosophers as diverse as Jurgen Havermas and Bernard Williams: and thirdly in its author's willingness to explore the ethical premises and implications of recent criticism with a philosophical depth and incisiveness which resists assimilation to any single ideological position."
"But there is no question but that the book is deeply pondered, full of what Leavis like to call 'cerebral muscle', and this reader, at any rate, was grateful to learn so much about Levinas and Ricoeur: the exposition is always lengthily patient and feels scrupulous, and the sense of Coleridge remarkably sure."
"This challenging book is an eminently rewarding one to read. David P. Haney's grasp not only of Coleridge but also of the array of thinkers past and present he orchestrates together for a dialogue among themselves and Coleridge is impressive. The book explores the reciprocal relationship between ethics and the reading of texts, between the moral dimension of our interpretive efforts and the interpretive dimension of our actions toward one another. Granting the historically different interpretive horizons of earlier and later writers, Haney convincingly argues that Coleridge remains pertinent to modern issues and that—no surprise to Coleridgeans—his penchant for reconciling contraries and opposites remains crucial to any discussion of his thought. The book moves methodically from a general discussion of hermeneutics, ethics, and historicism to a final chapter on love, otherness, and the absolute self, which indirectly reveals the complex theological and personal tensions of Coleridge's own richly complex inner life. It is these lived tensions, of course, that often enabled him to reconcile conflicting interpretations and realities."
"I can think of no other contemporary scholar who has dealt in such a commanding way with the breadth and depth of Coleridge's intellectual reach. . . . Certainly those interested in the whole area of ethics and literature will find much of value in the book."
"Let it be said at once that David Haney has given us a remarkable and important book.

If the 'challenge of Coleridge' is 'to read him with an attentiveness both to his horizon and to our own that will enable his texts to "speak to us,"' then David Haney has surely met the challenge. And the many-voiced conversation Haney has begun will continue, we may hope, for years to come."
Interweaving past and present texts, The Challenge of Coleridge engages the British Romantic poet, critic, and philosopher Samuel Taylor Coleridge in a "conversation" (in Hans-Georg Gadamer's sense) with philosophical thinkers today who share his interest in the relationship of interpretation to ethics and whose ideas can be both illuminated and challenged by Coleridge's insights into and struggles with this relationship.
In his philosophy, poetry, theology, and personal life, Coleridge revealed his concern with this issue, as it manifests itself in the relation between technical and ethical discourse, between fact and value, between self and other, and in the ethical function of aesthetic experience and the role of love in interpretation and ethical action.
Relying on Gadamer's hermeneutics to supply a framework for his approach, Haney connects Coleridge's ideas with, among others, Emmanuel Levinas's other-oriented notion of ethical subjectivity, Paul Ricoeur's view about the other's implication in the self, reinterpretations of Greek drama by Bernard Williams and Martha Nussbaum, and Gianni Vattimo's post-Nietzschean hermeneutics.
Coleridge is treated not as a product of Romantic ideology to be deconstructed from a modern perspective, but as a writer who offers a "challenge" to our modern tendency to compartmentalize interpretive issues as a concern for literary theorists and ethical issues as a concern for philosophers. Looking at the two together, Haney shows through his reading of Coleridge, can enrich our understanding of both.
Other Ways to Acquire
Buy from Amazon.com

Buy from an Independent Bookstore
Buy from Powell's Books
Buy from Barnes and Noble.com
Find in a Library
Get the
Kobo Edition
Get the
Kindle Edition
Get the
iBook Edition
Join
Sign up for e-mail notifications about new books and catalogs!
Related Subjects