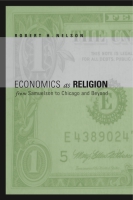 Economics as Religion
From Samuelson to Chicago and Beyond
Copyright: 2001
Dimensions: 6 x 9
Page Count: 408 pages
Hardcover ISBN: 978-0-271-02095-2
Paperback ISBN: 978-0-271-02284-0
"Market economics is best understood as a religion. When I first read this claim in a book by Robert Nelson . . ., I had doubts. . . . [But] the more one thinks about the function of market economics in modern society, the stronger the case gets for treating it as a religion."
"Nelson's book is a challenge to economists to see their field anew."
"Economists are not objective technocrats, applying a value-free science, and in developing this argument Mr. Nelson makes an important contribution."
"This engaging book should be of considerable value to scholars in the social sciences and humanities, to public policy makers, and to informed general readers."
"An exceedingly well-written book. [Nelson's] style is both clear and graceful. . . . an exceptional production. This is a handsome, well-crafted book. At $35, it's a real bargain."
"In his groundbreaking study, Robert Nelson explores the genesis, the prophets, the prophecies and the tenets of what he sees as a perfervid secular theology and religion of economics that has come into full blossom in latter-day America."
"His thesis is new and novel: he has written a strong brief for it, and to say the least, he has interesting ideas."
"[Nelson] provides a huge service to students of religion in his attempts to place economics (viewed by many as a highly technical field far beyond the conceptual grasp of non-economists) in conversation with theology."
"Nelson argues that [economists] are really theologians, though mostly unaware of that fact, in his thoughtful and challenging new book. [He] makes a strong case that economics cannot be a purely positive science."
"Paul Samuelson has been called many things in his long career, but never before to my knowledge a theologian. But according to Robert Nelson in his excellent book, modern economics is bound inextricably with religion; and he takes Samuelson, the most influential economist of the years after World War II, as a prime example of his thesis."
"Economics as Religion is an excellent book. [Its] purpose is to show how the arguments of economists legitimate social and economic arrangements by providing these arrangements with quasi-religious justification. Economists are thus doing theology while for the most part unaware of that fact. It provides a remarkably balanced and comprehensive history of the way that economics developed in the twentieth century. The book will undoubtedly be welcomed by . . . [a] considerable number of theologians. Professional economists will find [it] will broaden their understanding of what economists have been doing in recent decades. Political scientists or philosophers can . . . clarify their understandings of social science and especially economics. And I think it will find a fair number of readers in the general population."
"Economics As Religion is an exceptional book. People should buy it, read it, and assign it in class. It will change the way in which we view economics, and it might change how economists think about their world."
"Economics as Religion is a well-written book, one rich in ideas. It would appeal to many economists, especially those with interests in the history of economic thought, methodology, and religion. It also would appeal to students of the role of religion in public life. Now, about the title. . ."
"Deeply enriching and fascinating book."
"Mixing intellectual history, theology, and a sophisticated yet readable account of the primary doctrines of twentieth-century economics, Nelson's book both illuminates economics' immediate past and draws attention to the problems of the future.

Nelson's survey of 20th-century economic thought is thorough and surprisingly readable; he has always been a good writer, and he has outdone himself here.

Economics as Religion is a major work—one that everyone concerned with economics (and everyone ought to be concerned with economics, in my opinion) should read. It prompts the reader to reconsider the intellectual legacy of the discipline, to rethink the roles of economists in public debate, and to ponder the rising challenges to the religion of progress."
"My reservations notwithstanding, this is a very good book, and Nelson has touched on an important issue highly relevant for public policy."
"Nelson has wide experience applying economics to public policy."
"That said, this book engages a vital subject that warrants interdisciplinary engagement. Its accessible language is just what the academy needs to promote dialogue between economists and theologians and, more broadly, between the social sciences and the humanities."
"Nelson provides a huge service to students of religion in his attempts to place economics . . . in conversation with theology."
"In his groundbreaking study, Robert Nelson explores the genesis, the prophets, the prophesies, and the tenets of what he sees as a . . . religion of economics that has come into full blossom in latter-day America."
"As a history of modern neoclassical economic theory, [Nelson's book] is exemplary. An exceedingly well-written book."
"Nelson does not regard 'theology' as a cuss word, and so his detailed study of the theology underlying Samuelsonian and Chicagoan economics is not a put-down. It's a way of seeing the rhetoric of fundamental belief—what has been called vision. Nelson . . . speaks with authority from within the field. . . . His grasp of modern economics is broad and firm. And so in theology, too. It's an important, even an amazing book: Luther meets Smith."
In this study, Robert H. Nelson explores the genesis, the prophets, the prophesies, and the tenets of what he sees as a religion of economics that has come into full blossom in latter-day America. Nelson does not see "theology" as a bad word, and his examination of the theology underlying Samuelsonian and Chicagoan economics is not a put-down. It is a way of seeing the rhetoric of fundamental belief—what has been called "vision."
Contents
Foreword by Max Stackhouse
Preface
Introduction: The Market Paradox
Part 1 The Laws of Economics as the New Word of God
1 Tenets of Economic Faith
2 A Secular Great Awakening
Part 2 Theological Messages of Samuelson's Economics
3 The Market Mechanism as a Religious Statement
4 Apostle of Scientific Management
Part 3 The Gods of Chicago
5 Frank Knight and Original Sin
6 Knight Versus Friedman Versus Stigler
7 Chicago Versus the Ten Commandments
Part 4 Religion and the New Institutional Economics
8 A New Economic World
9 Efficient Religion
Part 5 Economics as Religion
10 God Bless the Market
11 A Crisis of Progress
Conclusion
Notes
Index
Other Ways to Acquire
Buy from Amazon.com

Buy from an Independent Bookstore
Buy from Powell's Books
Buy from Barnes and Noble.com
Get a License to Reuse
Find in a Library
Get the
Kobo Edition
Get the
iBook Edition
Join
Sign up for e-mail notifications about new books and catalogs!
Related Subjects
Also of Interest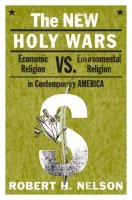 Economic Religion Versus Environmental Religion in Contemporary America
This book is a part of the Association of American University Presses'
Books for Understanding: Financial Crisis
book list, created to help all of us better understand the world we live in.
Knowledge, Not just information