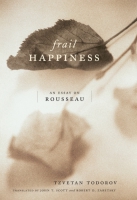 Frail Happiness
Copyright: 2001
Dimensions: 5.5 x 8
Page Count: 104 pages
Illustrations: 1 illustration
Hardcover ISBN: 978-0-271-02110-2
Paperback ISBN: 978-0-271-02400-4
Hardcover Edition: $46.95
Website Sale Price: $11.74, You save 75% Add to Cart
Paperback Edition: $25.95
Website Sale Price: $6.49, You save 75% Add to Cart
"This translation . . . is doubly welcome. . . . [It] offers readers both an insightful interpretation of Rousseau, one that presents him explicitly as a moral theorist, and an introduction to Todorov's own contributions to what he calls a 'critical humanism'."
"In Frail Happiness, Todorov argues for the coherence of Rousseau, against those who prefer to underscore his contradictions. In its very simplicity it is an elegant presentation, one that will doubtless attract many readers."
"All the same, Frail Happiness remains possibly the most successful of Tzvetan Todorov's writings on the history of ideas: if the text is little more than a collage of quotations and well-chosen images, it is sustained by great intuition and emotional sympathy; crafted with admirable modesty and sparing means, it succeeds in conveying the essence of Rousseau's thinking, offering an excellent, reader-friendly introduction to anyone wishing to approach his works."
"We are all confronted, at one time or another, with choices as to what sort of life we will lead." So Tzvetan Todorov begins Frail Happiness, an important interpretation of Rousseau, one suffused with Todorov's own moral seriousness and intellectual depth. While ranging widely through Rousseau's corpus with skill and scholarly authority Todorov returns, again and again, to the fragile yet persistent hope for human happiness.
Other Ways to Acquire
Buy from Amazon.com

Buy from an Independent Bookstore
Buy from Powell's Books
Buy from Barnes and Noble.com
Find in a Library
Get the
Google Play Edition
Join
Sign up for e-mail notifications about new books and catalogs!
Related Subjects
Also of Interest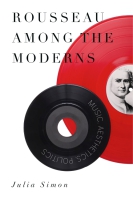 Music, Aesthetics, Politics