Rethinking Humanitarian Intervention
A Fresh Legal Approach Based on Fundamental Ethical Principles in International Law and World Religions
Copyright: 2002
Dimensions: 6 x 9
Page Count: 520 pages
Illustrations: 6 b&w illustrations
Hardcover ISBN: 978-0-271-02145-4
Paperback ISBN: 978-0-271-02313-7
Hardcover Edition: $82.95
Paperback Edition: $46.95
"To stop history from repeating itself, Brian Lepard's guide offers a clear legal road map for humanitarian intervention. He draws principles from international law and religious texts to help interveners solve ethical conflicts between human rights and national sovereignty, the use of force and peaceful conflict resolution, or effective intervention and remaining impartial."
"The outcome of Prof. Lepard's considerations is enormously significant.

In making an explicit connection between international human rights law and religion, Prof. Lepard has taken this trend to the next level."
"A monumental accomplishment. . . . The strength of the book . . . is Lepard's analysis of ethical and religious traditions, and his meticulous connection of these traditions' imperatives to key provisions in the UN Charter."
"This treatise is methodologically sound, informative, and well-researched."
"Lepard's timely book touches on . . . the role religion might play in resolving conflicts involving human rights violations."
"Overall, Lepard's book represents a major and creative effort to come to terms with complex legal and ethical dilemmas posed by humanitarian intervention. The analysis will be of considerable interest to anyone seeking insights into these dilemmas."
"This is a work that is really not like anything before and that should be read to be appreciated."
"Brian Lepard brings a massive research effort to bear in support of his fresh approach to humanitarian intervention. By relying on a blend of ethics, religion, and law, this study challenges the validity of both realism and liberalism as the basis for policy and interpretation in international relations. An excellent book that deserves a wide readership and much discussion."
"Lepard provides a fresh exploration of legal and moral justifications for humanitarian intervention. . . . He opens new analytic vistas and provides a foundation for resolving conflicts over the content of the law. He applies the framework in masterly examinations of intervention in Bosnia, Somalia, Rwanda, Haiti, and Kosovo. Rarely do we see an author sustain as much sensitivity to opposing arguments while constructing a strong ethical basis for shaping diplomacy, ethics, and international law. This is a ground-breaking and, in its moral sweep, even a breath-taking book."
Few foreign policy issues in the past decade have elicited as much controversy as the use of military force for humanitarian purposes. In this book Brian Lepard offers a new method for analyzing humanitarian intervention that seeks to resolve conflicts among legal norms by identifying ethical principles embedded in the UN Charter and international law and relating them to a pivotal principle of "unity in diversity."
A special feature of the book, which avoids the charge of ethnocentricity brought against other approaches, is that Lepard shows how passages from the revered texts of seven world religions may be interpreted as supporting these ethical principles. In connecting law with ethics and religion in this way, he takes a major step forward in the effort to formulate a normative basis for international law in our multicultural world.
Other Ways to Acquire
Buy from Amazon.com

Buy from an Independent Bookstore
Buy from Powell's Books
Buy from Barnes and Noble.com
Find in a Library
Get the
Kobo Edition
Get the
Kindle Edition
Get the
iBook Edition
Join
Sign up for e-mail notifications about new books and catalogs!
Related Subjects
Also of Interest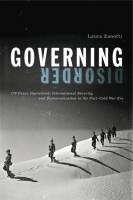 UN Peace Operations, International Security, and Democratization in the Post–Cold War Era