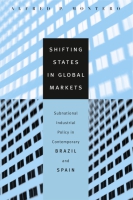 Shifting States in Global Markets
Subnational Industrial Policy in Contemporary Brazil and Spain
Copyright: 2002
Dimensions: 6 x 9
Page Count: 272 pages
Illustrations: 5 illustrations/2 maps
Hardcover ISBN: 978-0-271-02189-8
Paperback ISBN: 978-0-271-02529-2
"A theoretically ambitious, empirically rich study of regional economic policy in Brazil and Spain. Using case studies based on extensive field research, Alfred Montero demonstrates how political factors such as elite competition can affect economic development. An important contribution to the emerging literature on subnational political economy."
Shifting States in Global Markets contributes to the debates over the political economy of globalization by focusing attention on the increasingly important role of subnational governments in implementing economic policies. Challenging the view that the effects of decentralization are positive or negative uniformly and can be explained by reference to the influence of national political institutions, Alfred Montero uses his comparisons of industrial policy in Brazil and Spain, and between different regions in these countries, to argue that we need to pay attention to political conditions at the subnational level to account for the variation in economic success between regions.
Two crucial conditions are emphasized in Montero's analysis: how much competition there is among political elites within any region, and how much competition there is between regions for scarce fiscal resources. Lower competition among elites leads to subnational governments delegating more autonomy to public agencies to develop ties with private businesses favoring allocative efficiency and innovation; higher competition between regions provides incentives for political leaders to support involvement in economic development efforts by a greater variety of public agencies, whose cooperation and mutual trust over time create the conditions for long-term success in these efforts. This analysis gives us a much more nuanced understanding of how countries are experiencing the challenges of globalization today.
Contents
List of Tables and Figures
Acknowledgments
List of Abbreviations
1. Introduction: The Political Origins of Synergy
2. Dual Transitions in Spain and Brazil
3. Remaking Industrial Policy in Minas Gerais
4. Designing Reindustrialization in the Principado de Asturias
5. Populist Government and Industrial Policymaking in Rio de Janeiro and Andalusia
6. Conclusions: Shifting States in Comparative Perspective
Appendix A: Spanish Interviews
Appendix B: Brazilian Interviews
Bibliography
Index
Other Ways to Acquire
Buy from Amazon.com

Buy from an Independent Bookstore
Buy from Powell's Books
Buy from Barnes and Noble.com
Find in a Library
Get the
Google Play Edition
Join
Sign up for e-mail notifications about new books and catalogs!
Related Subjects
Also of Interest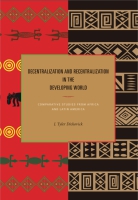 Comparative Studies from Africa and Latin America