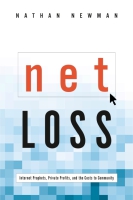 Net Loss
Internet Prophets, Private Profits, and the Costs to Community
Copyright: 2002
Dimensions: 6 x 9
Page Count: 416 pages
Hardcover ISBN: 978-0-271-02204-8
Paperback ISBN: 978-0-271-02205-5
Winner of a 2003 Choice Award for an Outstanding Academic Title
"Nathan Newman has written a fascinating history of the Silicon Valley that chronicles the federal government's leading role in creating, and then privatizing, the Internet. Net Loss not only dispels the myth that the Internet emerged full-blown as a result of entrepreneurial risk in a competitive marketplace, but also explains in depth how forces of globalization have undermined regional economies in California while reshaping social and political life in local communities. This groundbreaking book is a must read for anyone concerned with the power of global corporations and the future of democratic governance."
"Net Loss is the perfect antidote for the confusion generated by the years of hype and the recent disillusionment surrounding the Internet economy. Nathan Newman offers a cogent and original analysis of what the Internet has really meant to the regional economy of the Silicon Valley as well as to other regions. Anyone in search of fresh ideas carefully grounded in a rich base of research will find this book just what they have been looking for."
"While the dot.com's have crashed and burned, the ideology surrounding them hasn't. Nathan Newman's Net Loss is an essential and original contribution to putting the cyberlibertarians' nonsense behind us—a reminder of the central role of government in developing the Internet, and the legal manipulations behind all the wacky and destructive experiments in deregulation of the last 20 years. An important story very well told."
"Nathan Newman tells us that the received wisdom on the Internet is simply wrong. The Internet is supposed to annihilate the state, undermining both the practical importance and the empirical need for government; Newman tells us the truth is exactly the opposite. The Internet is supposed to annihilate geography; Newman tells us that, at every stage, it shows us both the importance and the need for community level economic regulation. You may not agree with Newman's conclusions, but you will not be able to ignore them."
"The book provides an in-depth analysis of the federal government's long-obscured role in the development of the Internet and the changing role of regions in the U.S. economy. At its heart, it is a call for individuals, groups, and communities to organize and counter the various political, social, and economic costs that have resulted. . . . Newman provides a well-written history of the Internet plus an analysis of key events, including the federal government's decision to withdraw from controlling the net, the passage of Proposition 13 in California, the breakup of AT&T, the 1999 battle in Seattle during the World Trade Organization conference, and the 2001 energy crisis in California."
"Makes a provocative case for business civic-mindedness."
"This marvelous book provides a well-written and detailed analysis of the transformation of American society associated with the rise of the Internet. . . . This work contains a massive quantity of information yet it is in a way comprehensible for undergraduate students."
How has the Internet been changing our lives, and how did these changes come about? Nathan Newman seeks the answers to these questions by studying the emergence of the Internet economy in Silicon Valley and the transformation of power relations it has brought about in our new information age. Net Loss is his effort to understand why technological innovation and growth have been accompanied by increasing economic inequality and a sense of political powerlessness among large sectors of the population.
Newman first tells the story of the federal government's crucial role in the early development of the Internet, with the promotion of open computer standards and collaborative business practices that became the driving force of the Silicon Valley model. He then examines the complex dynamic of the process whereby regional economies have been changing as business alliances built around industries like the Internet replace the broader public investments that fueled regional growth in the past. A radical restructuring of once regionally focused industries like banking, electric utilities, and telephone companies is under way, with changes in federal regulation helping to undermine regional planning and the power of local community actors.
The rise of global Internet commerce itself contributes to weakening the tax base of local governments, even as these governments increasingly use networked technology to market themselves and their citizens to global business, usually at the expense of all but their most elite residents. More optimistically, Newman sees an emerging countertrend of global use of the Internet by grassroots organizations, such as those in the antiglobalization movements, that may help to transcend this local powerlessness.
Contents
Preface
Acronyms
1. Introduction
2. How the Federal Government Created the Internet, and How the Internet Is Threatened by the Government's Withdrawal
3. Federal Spending and the Regionalization of Technology Development
4. Business Cooperation and the Business Politics of Regions in the Information Age
5. Banks, Electricity, and Phones: Technology, Regional Decline, and the Marketization of Fixed Capital
6. Local Government Up for Bid: Internet Taxes, Economic Development, and Public Information
7. Conclusion: The Death of Community Economics, or Think Locally, Act Globally
Bibliography
Index