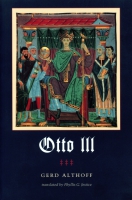 Otto III
Copyright: 2003
Dimensions: 6 x 9
Page Count: 232 pages
Illustrations: 7 b&w illustrations
Hardcover ISBN: 978-0-271-02232-1
Paperback ISBN: 978-0-271-02401-1
Paperback Edition: $35.95
"Althoff's careful attention to the sources (quoted extensively in the translation with full Latin citations) and his insights regarding the ritualistic and demonstrative behavior of the early Middle Ages mark this as a book that demands the attention of scholars and students alike and one that should have an English translation."
"Previous historians have seen Otto III as a misguided or even tragic political innovator. But for Gerd Althoff, Otto was a savvy ruler well attuned to the political 'theater' of his day. Otto III is an excellent introduction to Althoff's vision of the Middle Ages, where power is exercised and communicated through ritual; where political players follow intricate and well-known—though unwritten—'rules of the game'; and where modern notions of 'policies' and 'ideologies' have no place. This book rightly challenges us to suspend our modern statist assumptions as we consider the nature of medieval rulership."
"During his short life contemporaries held widely differing opinions about Emperor Otto III. Modern German scholarship has been just as divided, branding him a genius bent on restoring the glory of the ancient Roman Empire whose death at twenty-two prevented him from achieving his goals or an ineffectual dreamer whose love of Rome set Germany on the path of political disaster. Refusing to ascribe to Otto any consistent ideological or political program or to dismiss him as an unrealistic failure, Gerd Althoff has produced a controversial study of the Emperor that emphasizes the limitations and parameters of medieval kingship, focusing on the rules of play by which Otto and his contemporaries lived and acted. Thanks to Phyllis Jestice's translation, English readers are introduced not only to Otto and his age but also to the ongoing debated in German historiography concerning this most fascinating and enigmatic ruler."
"The complexity of Otto's reign and earlier historians' wildly divergent interpretations of it, along with many of Althoff's interests in early medieval rulership, all nicely coincide in this study so that the book effectively conveys the style and research interests of a major scholar while offering a careful, richly documented, and perceptive study of Otto III and his reign."
"This is a mould-breaking biography and an exemplary work of modern scholarship that showcases a very important recent approach to the period as a whole."
Otto III (980–1002) was one of the most powerful rulers in Europe in the late tenth century. He is also one of the most enigmatic. The son of the German emperor Otto II and the Greek princess Theophanu, he came to the throne at the age of three and was only twenty-one years old at the time of his death. Nonetheless, his reign had a lasting impact on both Germany and Italy for generations. In this book, Gerd Althoff provides a much-needed biography of this fascinating figure. In the process, he uses Otto's life to explain how in practice early medieval kingship worked.
Contents
Translator's Note
Preface to the German Edition
Preface to the English Edition
Introduction
The Modern Assessment of Otto III
Royal Rule and the Idea of the State at the End of the Tenth Century
Central Questions and the Problem of Sources
1. A Child on the Throne
Henry the Quarrelsome and the Disturbances over the Succession
The Regency of the Empresses
2. The Beginning of Independent Rule
The First Independent Decisions
The First Italian Expedition
The Encounters with Gerbert and Adalbert
3. The "Revenge Expedition" to Rome and the Beginning of the "Roman Renewal"
The Fight Against Crescentius and the Antipope
Otto III's "Idea of Roman Renewal" in Older and Newer Scholarship
4. The Journey to Gniezno
Preconceptions and Preparations
The Journey
From Gniezno to Aachen
5. The Last Expedition to Rome
"Government Business" on the Way
The Gandersheim Conflict
The "Ingratitude" of the Romans
The Death of Otto III
6. Building Blocks for an Assessment of Otto III: Observations, Insights, Open Questions
Demonstrative Ritual Behaviors
"Friends" of Otto III and His Interaction with Them
Dealing with the Heritage
Abbreviations
Notes
Bibliography
Index