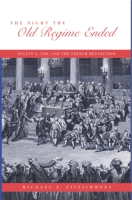 The Night the Old Regime Ended
August 4, 1789 and the French Revolution
Copyright: 2003
Dimensions: 6 x 9
Page Count: 256 pages
Hardcover ISBN: 978-0-271-02233-8
Paperback ISBN: 978-0-271-02899-6
"Historians have tended to dismiss or underplay the importance of the night of August 4 and to be somewhat cynical about the motives of those involved. In this well-researched study, Fitzsimmons shows that the events of this night had momentous consequences across a wide area of revolutionary policy and played a key role in forging French national identity."
"Carefully examining the delicate privilege question, Fitzsimmons convincingly demonstrates that clergy and noble representatives were divided over this issue. . . . This volume is a valuable addition to the historiography of the French Revolution."
"There is no dispute that Fitzsimmons's book is both interesting and essential not only for study of the early part of the French Revolution, but also for an accurate understanding of modernity, as the author provides in his book a useful and workable model of that often overused term. Thus, it has a timely double appeal and utility and, therefore, it has a place in any academic library and many private ones as well. In both important areas, Fitzsimmons has made timely and valuable contributions."
"Fitzsimmons's command of the Old Regime is also impressive. This book will quickly have an impact on our general understanding of the Revolution."
"The Night the Old Regime Ended is an important and worthwhile book that will prove useful to both experts and advanced students of the French Revolution."
"[A] superbly documented and clearly written book. . . . The Night the Old Regime Ended [will be] indispensable book for any student of the early part of the Revolution."
"Fitzsimmons is keen to stress the spread of commonality amongst the deputies."
"This is a challenging and interesting analysis, which will be invaluable for students at undergraduate and graduate levels and, hopefully, stimulate further work on the legislative achievement of the National Assembly."
If the Fall of the Bastille on July 14, 1789, marks the symbolic beginning of the French Revolution, then August 4 is the day the Old Regime ended, for it was on that day (or, more precisely, that night) that the National Assembly met and undertook sweeping reforms that ultimately led to a complete reconstruction of the French polity. What began as a prearranged meeting with limited objectives suddenly took on a frenzied atmosphere during which dozens of noble deputies renounced their traditional privileges and dues. By the end of the night, the Assembly had instituted more meaningful reform than had the monarchy in decades of futile efforts. In The Night the Old Regime Ended, Michael Fitzsimmons offers the first full-length study in English of the night of August 4 and its importance to the French Revolution.
Fitzsimmons argues against François Furet and others who maintain that the Terror was implicit in the events of 1789. To the contrary, Fitzsimmons shows that the period from 1789 to 1791 was a genuine moderate phase of the Revolution. Unlike all of its successor bodies, the National Assembly passed no punitive legislation against recalcitrant clergy or émigrés, and it amnestied all those imprisoned for political offenses before it disbanded. In the final analysis, the remarkable degree of change accomplished peacefully is what distinguishes the early period of the Revolution and gives it world-historical importance.
CONTENTS
Preface
1. The National Assembly and the Night of August 4
2. The Impact on the Church
3. The Abolition of Nobility
4. The Ramifications in the Countryside
5. The Reverberation in the Cities
Conclusion
Endnotes
Bibliography
Index
Other Ways to Acquire
Buy from Amazon.com

Buy from an Independent Bookstore
Buy from Powell's Books
Buy from Barnes and Noble.com
Find in a Library
Get the
Kindle Edition
Join
Sign up for e-mail notifications about new books and catalogs!
Related Subjects