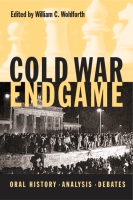 Cold War Endgame
Oral History, Analysis, Debates
Copyright: 2002
Dimensions: 6 x 9
Page Count: 352 pages
Hardcover ISBN: 978-0-271-02237-6
Paperback ISBN: 978-0-271-02238-3
"This is a first-rate book for anyone interested in the Cold War and international relations theory. William Wohlforth has done an excellent job of compiling and annotating transcripts from an oral history conference that brought together former Soviet and American officials, and he has carefully integrated the transcripts with substantive chapters by well-regarded authors, making a cohesive whole. The book sheds valuable light not only on the end of the Cold War, but on key theoretical issues in the field of international relations."
"The editor has done a superb job of assembling this collection of oral history transcripts and analytical articles. The result is an indispensable resource for the study of the last two years of the Cold War."
"Cold War Endgame: Oral History, Analysis, Debates is a fine marriage of diplomatic recollection and theoretical analysis of a momentous three years. William Wohlforth's book will be advantageous in seminars on Soviet-American relations, the end of the Cold War, and international relations theory.

A terse summary cannot do justice to the richness of either diplomatic or scholarly argument. This good read will energize many a historical and theoretical discussion."
"It is rare to have a volume that integrates pure primary sources along with scholarly analysis, and much of the pleasure in Cold War Endgame comes from jumping between the participant's discussions and the analysis that follows. Much more will be written about this period of foreign policy history, but it is likely that Cold War Endgame will provide the foundation for these works."
"This is a first-rate book for anyone interested in the Cold War and international relations theory."
"That said, the book has much to commend it, especially for courses focusing on US-Soviet interactions, or on the relevance of various approaches to international politics for an understanding of Cold War dynamics."
Cold War Endgame is the product of an unusual collaborative effort by policy makers and scholars to promote better understanding of how the Cold War ended. It includes the transcript of a conference, hosted by former Secretary of State James Baker and former Soviet Foreign Minister Alexander Bessmertnykh, in which high-level veterans of the Bush and Gorbachev governments shared their recollections and interpretations of the crucial events of 1989–91: the revolutions in Eastern Europe; the reunification of Germany; the Persian Gulf War; the August 1991 coup; and the collapse of the USSR.
Taking this testimony as a common reference and drawing on the most recent evidence available, six chapters follow in which historians and political scientists explore the historical and theoretical puzzles presented by this extraordinary transition. This discussion features a debate over the relative importance of ideas, personality, and economic pressures in explaining the Cold War's end.
Contents
Acknowledgments
Introduction / William C. Wohlforth
Part I: Oral History: The Princeton Conference
1. Forging a New Relationship
2. German Unification
3. The Persian Gulf War
4. The Collapse of the Soviet Union
Part II: Analysis
5. Once Burned, Twice Shy? The Pause of 1989
Derek Chollet and James M. Goldgeier
6. Trust Busting Out all Over: The Soviet Side of German Unification
Andrew O. Bennett
Part III: Debates
7. Gorbachev and the End of the Cold War: Different Perspectives on the Historical Personality
Vladislav Zubok
8. The Road(s) Not Taken: Causality and Contingency in Analysis of the Cold War's End
Robert D. English
9. Economic Constraints and the End of the Cold War
Stephen G. Brooks and William C. Wohlforth
Conclusion
10. Failure or Learning Opportunity? The End of the Cold War, International Relations Theory, and Lessons for Foreign Policy
Joseph Lepgold
List of Participants and Contributors
Index
Other Ways to Acquire
Buy from Amazon.com

Buy from an Independent Bookstore
Buy from Powell's Books
Buy from Barnes and Noble.com
Find in a Library
Get the
Kindle Edition
Join
Sign up for e-mail notifications about new books and catalogs!
Related Subjects