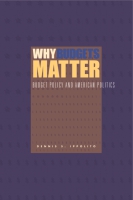 Why Budgets Matter
Budget Policy and American Politics
Copyright: 2003
Dimensions: 6 x 9
Page Count: 344 pages
Hardcover ISBN: 978-0-271-02259-8
Paperback ISBN: 978-0-271-02260-4
"It is said that some governments go over their budgets very carefully, while others do it without even noticing. Ippolito manages to convey something fresh and new about both the revenue and expenditure sides of budgets in this well-written and comprehensive text. But what I found astonishing about the book is its ambition: it explains why the federal budget works as it does, rather than just describing the process. Ippolito's main thesis, that the tendency toward deficits and growth of government is a product of larger forces in American politics, looked like an anachronism just two years ago. But deficits are back. This book couldn't be more timely, and it couldn't be more important."
"A comprehensive, clear, and valuable account of the exceedingly complex history of federal budgeting. Ippolito succeeds admirably."
"Ippolito's analysis of the budget process is an important contribution to the literature on the American budget process. It is unquestionably one of the best books on the subject, similar in scope to Aaron Wildavsky's classic The New Politics of the Budgetary Process (1988). Overall, Why Budgets Matter: Budget Policy and American Government is an excellent historical account of the federal budget process, and it is intended for a general adult reading audience."
"This work is particularly notable because it starts with the very beginnings of the US in 1789; most analysis of federal finance concentrates on the post-WWII era."
"What a timely book. As the U.S. federal government embarks on a course of record-setting debt accumulation, Dennis Ippolito provides the perfect context: the story of American fiscal policy. This is not another book about process. It is not another description of congressional wrangling. And it is not a period piece. In Why Budgets Matter, Ippolito offers us something new. . . . He has provided a broad, sweeping history and a good one at that. What seems to belong, given the scope of the book, is there; what does not belong, is not. The accounting itself is nicely documented and rings true. It also is a pleasure to read. . . . [T]here . . . is much to recommend this book to many different audiences. It is ideal for various undergraduate courses and selected graduate courses as well. Most scholars of American politics and policy will want to have a copy at hand, as will attentive members of the general public."
"Dennis Ippolito has written another important book on the federal budget. . . . One genuine achievement of the book is the organization of a massive amount of information into historical periods that correspond with larger developments in American politics. Ippolito combines secondary sources with extensive references to government fiscal documents to map budget decisions over time, identify changes in major priorities, and link budget decisions to broader developments in United States domestic and foreign policy."
"This book is without doubt the best analysis yet written of federal budgeting from the late eighteenth century to the present. . . . The subject matter of this splendid book should therefore be of immense interest to students of political history and public policy."
Much of what government does depends on money. From the nation's founding until today, conflicts over the powers to tax, spend, and borrow have been at the heart of American politics. Why Budgets Matter is a comprehensive account of how these conflicts over budget policy have shaped national politics by determining the size and role of the federal government.
The history of budget policy provides a unique perspective on political change in the United States and helps explain how and why the federal government has grown over time. Dennis Ippolito reviews the different stages of this development—from the era of small government prior to the Civil War through the dramatic transformations of the New Deal and Cold War up to the current challenges of modernizing the welfare state—and shows how each of these stages reflected a dominant vision of the size and role of the federal government, incorporating particular spending, tax, and borrowing philosophies and policies.
Why Budgets Matter offers new insights into the enduring debate over "limited government" versus "big government" in the United States and will be a valuable resource for students, scholars, and policy makers seeking a better understanding of the background to the fiscal problems we face today.
Contents
List of Figures and Tables
Preface
1. Perspectives on Budget Policy
2. The "Small Government" Era (1789–1860)
3. Budgeting for Government Growth (1860–1915)
4. The Transition to Modern Government (1915–1940)
5. War and Defense Budgets (1940–1970)
6. Social Welfare Budgets and Deficits (1970–1990)
7. Reconciliation and Balanced Budgets (1990–2001)
8. Budgeting for the Future
Selected Bibliography
Index