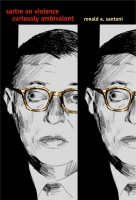 Sartre on Violence
Copyright: 2003
Dimensions: 6 x 9
Page Count: 200 pages
Hardcover ISBN: 978-0-271-02300-7
Paperback ISBN: 978-0-271-02301-4
"Across the years and through a number of writings that exhibit 'an unsteady but tested line of continuity, development and coherence,' Sartre came to realize that violence is at once freedom-affirming and freedom-destroying—a particularly uncomfortable situation for a philosopher of freedom with quasi-utopian social ideals. This insightful analysis of Sartre's 'curiously ambivalent' understanding of violence and its justification is the most thorough study of this important topic that we are like to have for a long time."
"Professor Santoni has provided the reader with a clearly written and comprehensive study of Sartre's views on violence, including a detailed reflection on Sartre's relation to Camus on this topic. Santoni's central theme is Sartre's reluctance both to condemn the occasional necessity of oppressed people to use violence against their oppressors, and to grant the status of moral approval to this use of violence. While not himself approving of this 'curious ambivalence,' Santoni acknowledges that, given Sartre's consistent and unequivocal support of the marginalized people of the world in their pursuit for a more dignified life, Sartre's occasional bow to violence is at least understandable."Santoni's important book is required reading for future work on this topic."
"In this well-documented, provocative work, Professor Santoni uncovers and examines the ambivalence of Sartre's treatments of violence throughout his writings. In the process he interestingly resurrects the intellectual atmosphere of mid-twentieth-century France, paying special attention to one of the most famous polemics of the time, the Sartre-Camus clash over the latter's The Rebel. The timeliness of Santoni's contribution, at a moment when the word 'terrorism' has captured everyone's attention but the idea of it often appears murky and unclear, hardly needs to be underscored."
"I do not know of anyone who has undertaken as thorough a study of both the early and later Sartre's 'curiously ambivalent' views on violence. One of the book's special strengths is that it makes significant use of Sartre's unpublished 1964 "Rome Lecture" as well as interviews he gave shortly before his death."
"Santoni makes no claim to an impressive intellectual pedigree for his analysis of Sartre. He just reads all the passages on violence in the thinker's work, showing how each is embedded within the systemic matrix of his philosophy at any given stage of its development. But in so doing, Santoni comes very close to an improvised model of symptomatic reading; for he demonstrates that a contradictory notion of violence runs throughout Sartre's work."
"Sartre on Violence has an important and provocative role to play. As a book full of moral challenges, it can serve as an extraordinarily valuable 'instructor' in these troubled times."
"In this intelligent, humane, and all-too-timely study, Ron Santoni unites two of his lifelong passions: Sartre's philosophy and his own abhorrence of violence. . . . The book is lucidly written. . . . It also serves as a good introduction to the trajectory of Sartre's thinking as a whole through the prism of this one seemingly narrow theme. . . . This book will be essential reading for all Sartre scholars, whether students or professionals. Moreover, it deals intelligently and sensitively with what Santoni, surely rightly, calls 'the issue of our time' (p. x). May the leaders of our countries read it as well."
"I would argue that this final section is the best discussion available in English of the "Rome Lectures" and is exceeded perhaps only by Juliette Simont's work, which was published in French and has, until now, remained mostly untranslated."
"Santoni, who has dedicated his life to the cause of peace, has favored us with a major contribution both to Sartre studies and to the broader issue of social violence that for Sartre as for many today remains 'curiously ambivalent.'"
From "Materialism and Revolution" (1946) through Hope Now (1980), Jean-Paul Sartre was deeply engaged with questions about the meaning and justifiability of violence. In the first comprehensive treatment of Sartre's views on the subject, Ronald Santoni begins by tracing the full trajectory of Sartre's evolving thought on violence and shows how the "curious ambiguity" of freedom affirming itself against freedom in his earliest writings about violence developed into his "curiously ambivalent" position through his later writings.
Other Ways to Acquire
Buy from Amazon.com

Buy from an Independent Bookstore
Buy from Powell's Books
Buy from Barnes and Noble.com
Find in a Library
Get the
Kindle Edition
Join
Sign up for e-mail notifications about new books and catalogs!
Related Subjects